Hello, dear readers! Today, we're going to talk about the joy you can experience when you give the gift of reading. I've put together nine awesome book giving ideas that will make you smile. Have a look at these ideas and try to determine which one you'll use and which ones your recipients will love!
9 Awesome Book Giving Ideas
Here's my list of great book giving gift ideas.
1 – Gift card to the bookstore
If you have a local bookstore, you can give your recipient a gift card to that bookstore. They can buy whatever book (or books) they want. Of course, you can also give an online gift card for the same result.
2 – Book themed jewelry, such as bookmarks or necklaces
You could give your recipient a lovely bookmark or a necklace pendant with a silver book. While this doesn't actually involve reading, a bookmark or even a necklace can help a book lover show their love for books.
3 – Kindle Unlimited Gift Subscription
If you know a reader who already has a Kindle eBook reader (like the Paperwhite which my grandmother loves), getting them a Kindle Unlimited gift subscription would be a fabulous idea. This will allow them to read eBooks as much as they want for around $10/month.
Amazon frequently has special deals on Kindle ereaders and Kindle Unlimited subscriptions, so keep your eyes peeled for a deal!
EDITOR'S NOTE: Speaking of deals, you can try Kindle Unlimited free for one month currently! This is a tremendous value.
4 – Upgrade their eBook Reader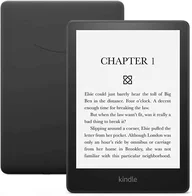 Yes, this can be expensive, but it's not as bad as you might think. If someone has a basic Kindle eReader, one good gift idea is to get them a brand new Kindle Paperwhite.
The Kindle Paperwhite is the perfect ereader for people who love to read. It has a built-in light with adjustable brightness so you don't strain your eyes. And, it's super lightweight.
If you feel like you're doing your friend or family member a favor, you can buy them a Kindle Oasis. The Kindle Oasis is the best kindle on the market, with a highly visible and adjustable light.
5 – Book Box
If you want to buy a gift they can touch, then you will love the Book Box. The Book Box is a monthly subscription service that offers physical books in the mail. What a novel concept! Haha.
In all seriousness, they find the best new reads, concentrating on early releases, fresh perspectives, and first time authors. You help them out by choosing a few books. They then add their own choices into the mix. The result is a box full of books every month.
Anyone who loves to read the old fashioned way will love this as a gift.
6 – Book Cover Postcards
Another great idea is to give them Book Cover Postcards. These postcards are a great way to share your love of reading with others. Each postcard has a simulated book cover on one side. There's a lot of great classics from Penguin books.
The nostalgia factor of this book-lover gift is off the charts. It's a unique way to share your love of reading with others. I think it's a very thoughtful gift idea. The collection has 100 postcards, featuring mind-blowing science fiction book covers
7 – Audible Membership
No, listening to a novel or book is NOT cheating. For some people, audiobooks are the preferred format. If your recipient loves books, you should give them a gift of Audible.
Membership of Audible are a great gift because it allows you to download audiobooks as often as you want. This is a great way to keep up with your reading even if you work a lot.
EDITOR'S NOTE: You can currently get an Audible free trial at Amazon!
8 – Used Books
If your recipient like used books, then the best gift is to give them a few books from a used book store. Used book stores often have great books that work for any occasion. You might want to buy a used copy of one of your favorites or a book that is hard to find new.
Personally, I love used book stores. My favorite – or one of them – was connected to a chainsaw repair shop. I'm not even kidding. The bookstore was one of the best because of the lady who ran the place with her husband.
As a book lover, I think she went above and beyond to make sure she could get anything I asked to read. Books are always a fantastic gift to give. And, used books are an excellent idea for a book lover gift.
9 – Bookish Items
Another great idea is to give your recipient a set of bookish items. If you want to buy a gift they can touch, then this is a great option. You can give them a mug, a t-shirt, or a poster with a literary quote.
There's also some humorous posters for book lovers that make great presents.
Give the Gift of Reading: Conclusion
I hope you've enjoyed my gift giving ideas for book lovers. I know that most people don't give gifts like this, but I think it's a great idea. You're giving your recipient something they can read or listen to. You're also giving them a way to share their love of reading with the world.
In my opinion, giving a book lover a book is a wonderful gift. I hope you enjoyed reading this article and will share it on social media if you did. If you have any ideas that I missed, please visit our Facebook group. I look forward to hearing from you.
And, I wish you all the best!