The pregnancy blues can honestly be tough. Nearly every pregnant soon-to-be-mother is going to go through with this eventually. While many know about postpartum depression, you can still experience blues or even depression while pregnant.
So, what can you do about all of this? How can you get yourself to come out of these terrible blues smiling? While it's not always easy, it is important to try to make an effort. So, here is everything you need to know about beating those blues!
10 Ways to Deal with Pregnancy Blues
Here's ten ways to deal with the blues after a pregnancy.
1. Laugh at Yourself
Laughter is the best medicine. It helps you forget about your worries, and it is a good mood booster. Laughing helps you release endorphins, which are chemicals in your body that make you feel happy and relaxed. It's not always easy to find something to laugh about when you are feeling down, but there are plenty of ways to make yourself laugh.
For example, you could watch a funny movie or TV show. You could also read jokes and funny comics on the internet or in books, or you could think of something that makes you laugh and then try to recreate it for yourself (e.g., take photos of your partner doing silly things).
2. Watch Your Favorite TV Show
There are a lot of benefits to watching TV while pregnant. Studies have shown that it can be good for your mental health, especially if you're feeling stressed. It also helps you stay up-to-date on current events and news, which might be important if you're planning on returning to work after giving birth.
Plus, it gives you something to look forward to, and it also distracts you. Whether it's YouTube, Netflix, Hulu, or anything else, why not watch something? While it may be temporary, it can help you out. However, you should watch something funny or upbeat.
3. Spend Time with Friends and Family
It is important to spend time with friends and family during pregnancy. This will help to keep your mood stable and improve the quality of your life. Spending time with friends and family is one of the best ways to feel better. It is even better if you spend time with people who are not stressful or demanding.
You will be able to share your feelings with them and get support from them. It will also help you stay connected to the outside world and find happiness again. Plus, when you reach out to loved ones who have experienced this, you're going to feel better. But sometimes, if this is reoccurring, than counseling may be a better option.
4. Meditate or Take a Walk in Nature
The fresh air, the sounds of nature, and the change in scenery can do wonders for your mood. Plus, this can provide mental clarity, reduce stress, and provide you with a sense of peace. Meditation is also a great way to calm your mind and soothe your soul.
This practice has been used for centuries as a way to connect with yourself, find inner peace, and get rid of negative thoughts that may be holding you back from being happy. This is small, but this can help you out a lot. On the flip side, this can help you look forward to pushing a stroller for your little one.
5. Eat Healthy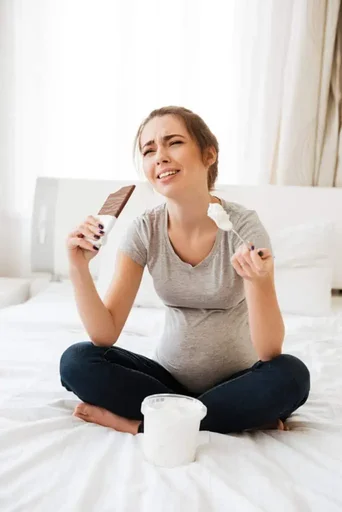 It is important to have a balanced diet when you are pregnant. This is because the baby needs a wide range of nutrients and vitamins to grow healthy and strong. It is also important for the mother to have enough energy for day-to-day activities.
While these are important, just eating better can help you feel both physically and mentally better. Yes, it can be tempting to reach out for junk food or cravings, but it's best not to.
6. Master the Art of Self-Care
Self-care is an important part of pregnancy. It is not just about taking care of the baby but also taking care of yourself. The first tip is to take time out every day for yourself. This means doing something that you enjoy and having time to indulge in your favorite things.
It can be anything from a long bath, reading a book, or watching your favorite TV series on Netflix. Try and find some time each day when you can relax and do nothing at all.This could be before bedtime, or if you work during the day, it could be during your lunch break or even just half an hour in the evening before dinner when you don't have any other commitments.
Make sure that you are getting enough sleep each night because lack of sleep can cause stress which can lead to depression and anxiety. There are a lot of benefits of using a pregnancy pillow, and this may help you get some sleep.
7. Just Remember How Amazing You Are
A quick and easy way to beat the pregnancy blues is to remember how amazing you are and all of the good things that you've done in your life so far. You are a loving and capable person who can handle anything that comes your way.
You have so much love to give, and you deserve happiness. It's also important to remember how many people love you, support you, and want what's best for you. Pregnancy is a time when you are not supposed to be self-critical.
But that doesn't mean it's easy to keep your head up. It's important for expecting mothers to remember that they deserve more than just being a mommy – they deserve recognition for their hard work! The hormones may be terrible, you may physically feel the worse, and not be in tip-top shape either, but everything will be alright.
8. Pamper Yourself
While your baby is growing in your womb, it's important to make sure you have a good diet and exercise. But when you're feeling like a ball of stress, it's time for pampering! There are so many things you could do about that! A good pampering could include indulging in a nice massage, trying out some yoga, and maybe even taking a warm bath.
However, there are plenty of other things you could do to treat yourself, too, such as buying something nice for yourself, whether it be clothes, food, skincare products, or so much more!
9. Stay Active and Exercise
Pregnancy can be a very stressful time for many women. It is important to stay active and exercise during this period to avoid feeling overwhelmed by the changes in your body and moods. Exercising helps release endorphins which can help you feel happy, more relaxed, and less anxious.
It also helps relieve stress which is often caused by hormones that are released during pregnancy. Yes, it could very well be a struggle doing this if you're waddling, but why not give yoga a go?
10. Think About the Special Time You'll Have with Your Baby
You definitely should not forget about this. While pregnancy is a beautiful experience, it's understandable if you don't feel beautiful inside and out. There are a lot of physical discomforts, from swollen feet to the pressure on the pelvis.
However, one big thing to help you get over these blues would be thinking of your little one. Just think about the time you'll spend with them. Just think about their smile and all the amazing things they'll do once they're out in the world. Soon enough, you'll get to be with your baby every single day, and it's going to be a marvelous experience!