If you're a parent who ѕtrugglеѕ while teaching уоur child to read, there's good news. You don't need to let them use your expensive tablet! LeapFrog learn to read solutions in 2022 have come a long way. On this page, we will cover absolutely everything you need to answer the question: Does LeapFrog LeapStart help with reading?
The simple answer is a resounding yes. LeapFrog has several different options for learning to read. Both the LeapFrog LeapStart and LeapFrog LeapReader can help your child with reading. Are the two names confusing? You bet! We'll break down the pros and cons of both to help you make a decision on which one is right for you
LeapStart Learning Systems vs LeapReader!
This can be so confusing at first! If you're not sure about the LeapStart vs the LeapReader, don't be worried. You're not alone. While it can be confusing at first, with a little explanation, it's easy to see the main points of the two learning systems.
Both have an electronic pen, but they're not the same. Still, they can both help teach children to read easily using technology.
Here is a quick rundown of the LeapStart and LeapReader… Basically, LeapStart is the NEW system and LeapReader is the OLD system.
What is LeapFrog LeapStart?
Ages 2 to 7
More Education Books
Preschool through first grade subjects
LeapStart Library
New content being produced
What is LeapFrog LeapReader?
Ages 4 to 8
More Fiction and Games
Geared toward older readers
No new content being produced
As you can see, the LeapStart (and LeapStart 3D) are both meant to be used by younger children. Once a child has a grasp of reading, LeapReader offers even more fun and adventures.
Does LeapStart work with LeapReader?
Be aware that LeapStart and LeapReader are NOT compatible. This means that the physical pen, books, and cartridges are different. You will NOT be able to use LeapReader books with LeapStart. However, all the books do share a similar format. You may be unhappy to learn that the books are not compatible except in the sense that they are about the same subjects occasionally.
While some parents think the LeapFrog LeapStart and LeapReader are the same, the fact is that they are two completely different systems that teach a child to read. Just because they both help with reading, doesn't mean they are the same.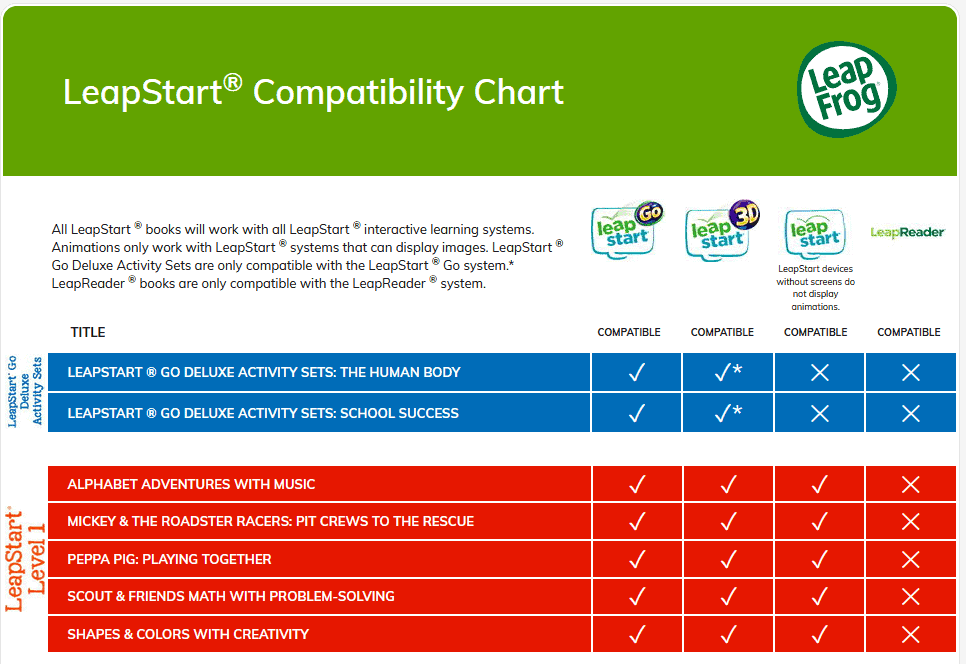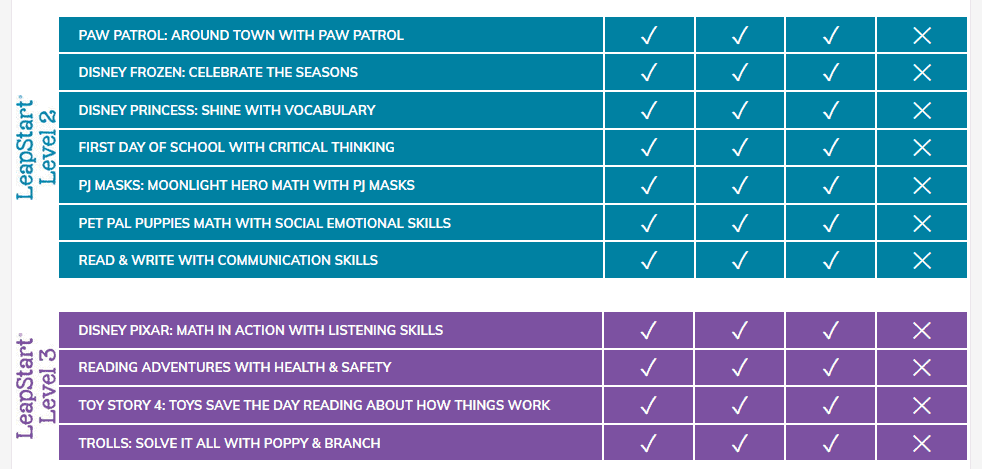 How Does LeapFrog LeapStart Work?
Using a stylus, children will explore the joy of interactive learning. With over 30 activities in each and every book, your child can learn their letters, numbers, shapes, and even fun things like counting, spelling, and more.
LeapStart is geared towards children who are at least 2 years of age. While it's a bit younger than the recommended age for the LeapReader, this just means it's more geared toward pre-writing skills.
Do parents need to buy LeapStart Books?
You will need to buy books to use with the LeapStart. There are many different LeapStart activity books that are based on your child's reading level and interests.
The idea is that the child is reading, and then doing activities. This can help them to learn even more about what they just read.
What's the Difference Between LeapStart and LeapStart 3D?
Basically, it's the size. The LeapStart 3D is a bit larger than the original LeapStart. While it is more expensive, some find it easier to use. It's easier to hold the pen and fit more letters on the screen.
The LeapStart 3D is compatible with all the normal LeapStart Library books, so that's good. Once again, though, it gets a bit confusing with so many similarly named systems.
How do you use the LeapFrog LeapReader?
Similar to the LeapStart, children use an electronic stylus to pronounce words and even have the story read to them. It's also used for other interactive features in the books. Again, it's important to remember that these books are NOT compatible with LeapStart books.
That said, LeapReader books tap into children's natural curiosity and inspire them to explore. By connecting LeapReader to a computer you can see your child's progress, expand the learning with fun activities and get personalized skill insights.
Do the LeapReader Books Help With Reading?
Yes! As mentioned, LeapReader books are fantastic help with teaching kids how to read! If you're not sure whether or not the LeapReader books help with reading, you can rest assured that they do! This can help you decide which learning system is best for you.
While LeapStart system does teach reading, but it is more geared towards younger kids who are just starting out. If your child is a bit older, they might have more fun with the LeapReader system, especially if they want more stories and fiction and a basic product.
Where to buy LeapReader Books
You can find LeapReader Books in physical stores like Target and Walmart, but we recommend shopping for LeapReader books at Amazon. (That link will take you straight to the source for all the LeapReaders stuff you can buy.)
You can occasionally find deals that make the LeapReader books even more of a value. Trust me, your kids are going to want MORE BOOKS. It's a great thing to hear in our modern age.
LeapFrog Learn to Read FAQ
Both the LeapStart and the LeapReader offer powerful ways to help your child learn how to read. It's important to choose the system that is most appropriate for your child's age and reading level.
Can you use LeapFrog Without a Computer?
No, you'll need a computer for both LeapFrog LeapStart and LeapFrog LeapReader. The LeapFrog LeapStart 3D also requires a computer to load the accompanying software. The good news is that the software is pretty cool and helps you as a parent as your child learns to read.
While it's a bit of a hassle at first, it does make the whole experience better in my opinion. Quite a few options are available for reasonably priced computers these days, so buying one might be an option. If you'd like to see an article on this, come to our Facebook group and let us know!
How do you use the LeapFrog reader pen?
Getting connected takes just a few easy steps; then the learning fun can begin! You first need to Download LeapFrog Connect to your computers. If you're having trouble using the LeapFrog reader pen, you can browse the LeapFrog support pages for help.
LeapFrog has other customer service support options available if you can't find your specific problem. Here's a video that walks you through everything rather nicely.
Can I connect my LeapFrog to my phone?
Yes. LeapFrog academy works with iPhone, Amazon Fire, most Android phones and tablets, LeapFrog Epic and Epic Academy Edition tablets, and Windows or Apple computers using a Wi-Fi connection.
Is VTech and LeapFrog the same?
Basically, yes. According to sources, "Effective April 4, 2016, LeapFrog is an indirect wholly-owned subsidiary of VTech." Take of that what you will. We still think both the LeapStart and the LeapReader systems are great way to encourage kids to read.
These days, any help is wonderful. Teaching children to read is one of the joys of life.
Thanks for reading to the end.