We've got the best Elmo toys for toddlers in 2022! Elmo is a well loved Sesame Street character that has been entertaining toddlers for years. If you're thinking of buying an Elmo toy for your toddler this holiday season, but don't know what to buy, it's time to read this list.
I've put together a list of the cream of the crop. Seriously, if I have to see another Elmo toy in the next 24 hours, I might lose my mind. So, here is a list of the best Sesame Street Elmo toys for toddlers that you can get right now.
Enjoy the fruits of my labor!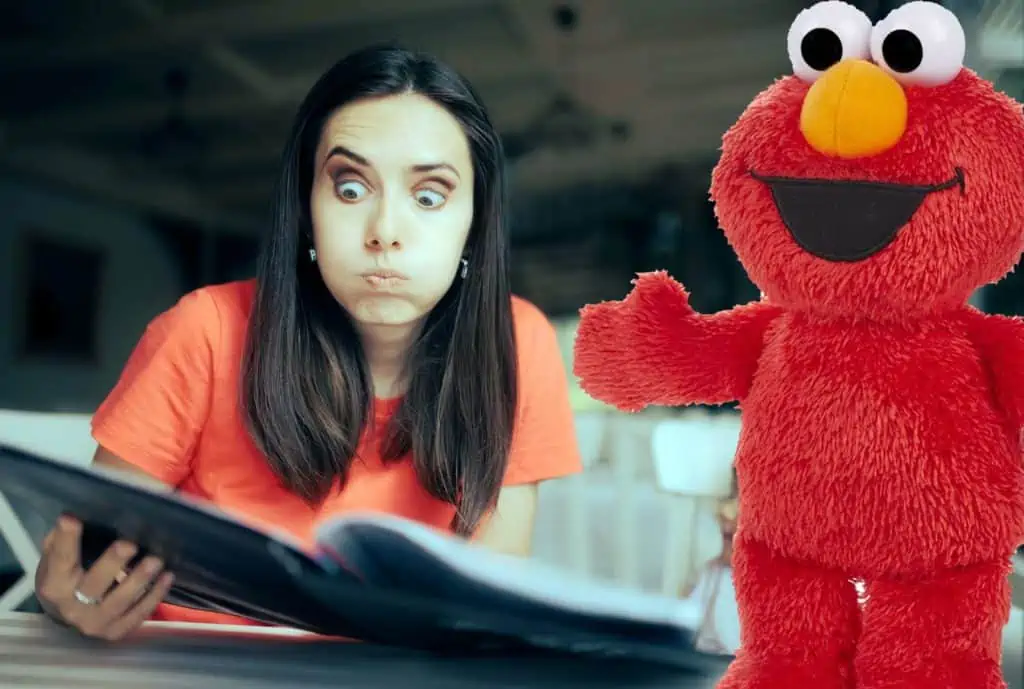 Elmo Toys for 1 Year Old
When buying Elmo toys for a 1 year old, you want to buy toys that are sturdy and not too small. Safety trumps all for a one year old, so make sure you buy toys that can handle the bumps and bruises of a one year old.
Mini Tickle Me Elmo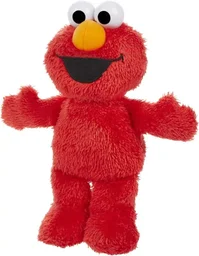 This is probably the toy that started the whole Elmo toys craze. This little guy has been around since 1996. It's also the toy that my kids want for every birthday and every holiday. This is an adorable Elmo that laughs when you press his tummy. You can hear him giggle and laugh.
He has six different phrases and laughs. My kids love to play with him. He is a soft, plush toy that is very cuddly. The soft, plush toy is great for younger children. If your little one loves Sesame Street, Elmo, and all things furry and cute, Little Laughs Tickle Me Elmo is the toy for them.
This is a smaller size of the original Tickle Me Elmo. It's the perfect size for little hands. The stuffed Elmo measures about 10 inches tall. Overall, this is a great toy to get your little one excited about Sesame Street and toys. You will have to get accustomed to the laughing, though!
---
Elmo Toys for 2 Year Old
Elmo toys for a 2 year old can be more fun and interactive. You can get your 2 year old Elmo toys that have lights, sound, and even interact with your child. Here's my choice for the best Elmo toys for a 2 year old boy or girl in 2022.
Brushy Brush Elmo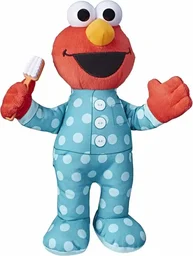 This is one of my kids' favorite toys from Sesame Street. This adorable furry plush Elmo will sing the popular Brushy Brush song from the Sesame Street segment, "Healthy Teeth, Healthy Me."
He also has fun phrases that encourage the kids to brush their teeth for 2 minutes. His tummy is the button that makes him sing and say those funny phrases. The Brushy Brush Elmo doll comes with a pretend toothbrush in his hand.
This is a great toy for kids ages 18 months and up. Press the tummy and brush along while Elmo sings. It will make your little one brush their teeth longer, which is great for the dentist-recommended 2 minutes of brushing.
There is a polka-dot pajama design on Elmo. He wears his signature pajamas with the polka-dots. Overall, I think this Brushy Brush Elmo toy is a great toy for any toddler! Parents might hate the song, but if it gets the kids to brush, it's okay!
---
Talking Elmo Toys for Toddlers
We've included some talking Elmo Toys above, but I wanted to highlight a few talking Elmo toys that are sure to make your child's day! You just can't go wrong with the Talking Elmo doll. I even had one for my daughter when she was just a baby. She absolutely loved it and had it for years!
Hugging Talking Elmo
Recommended Age: 2+ years old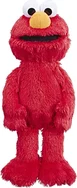 Elmo loves to give hugs and this is one of the cutest toys from Sesame Street. Squeeze Elmo's tummy and he will raise his arms up and ask for a big hug. Give Elmo a hug and he will tell you how much he loves giving hugs. If you hug him a lot, he will sing his very own "Hug Song."
Toddlers and preschoolers often express love through giving lots of hugs. With Hugging Talking Elmo, kids can share hugs with a favorite pal from Sesame Street. This cuddly plush Elmo responds to hugs with fun phrases, a hugs song, a friendship song, and lots of giggles.
Kids can giggle right along as they celebrate friendship with Hugging Talking Elmo! Overall, I believe this toy to be great because of its educational value and its size! I would definitely recommend this toy for any Elmo, Sesame Street, or cuddly toys lovers in your house.
---
Elmo Games for Toddlers
Here's my choice for the best of all the Elmo games for toddlers.
Elmo Matching Game
Match up all of your favorite furry Muppet friends. This Sesame Street Matching Game includes 18 Sesame Street characters that you need to match up. Challenge your child's memory while they have fun trying to find the pairs, including the beloved Elmo. For 2+ players, ages 3+.
For children aged 3 years and above, this classic game has an Elmo-twist. The Matching Game includes 18 sets of cards that need to be matched using skills to visual recognition and memory. It helps develop problem-solving skills and an understanding of how things work.
This game is easy to play, using a simple concept – memory. If you have an Elmo fan in your house and were thinking about getting a matching game anyway, this is the perfect choice. It has a great price, and it means your child can play with their beloved Elmo.
Overall, this is a great Elmo game for children aged 3 years and above. The Elmo twist is fun, and the concept is easy to understand. It might not be the best choice if you're looking for a complex game, but it is a great game if you're looking for something to help develop your child's memory skills while having fun.
---
Singing Elmo Toys for Toddlers
Yes, Elmo toys can do more than talk now! Singing Elmo toys are a huge hit with young toddlers and Elmo toys are the best 1st birthday gifts! This Singing Elmo toy is sure to make your child's day. I promise.
Singing ABC Elmo
Recommended Age: 18 months to 4 years old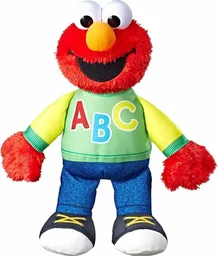 Elmo is one of my son's favorite toys from Sesame Street. Press his tummy, and he talks and sings about one of his favorite subjects: letters! He sings the classic alphabet song, encouraging your child to sing along and get familiar with the ABC's.
Elmo even says phrases in Spanish or English, depending on the language mode selected! Whether you and your little one are reviewing letters or simply enjoying playtime, Singing ABC Elmo is a fun way to introduce letters to your child.
This toy was s the PERFECT size for our two year old. It's not a small toy like some of the others. His voice is good and not too loud either. We like the way that he goes through the alphabet in its entirety. Excellent educational toy!
Overall, I think this toy is great because of its educational value, and its size! I would definitely recommend this toy for any Elmo or Sesame Street lovers in your house. This classic Elmo singing toy is fun and helpful which is the perfect combination.
---
Best Elmo Toys for Toddlers: Closing Thoughts
Elmo toys are among the most popular Sesame Street toys and with good reason. They are cute, cuddly, and really fun to interact with. There is a wide range of Elmo toys, so make sure you know what kind of Elmo toy you want to buy before you buy.
Overall, Sesame Street (and Elmo) is an extremely popular brand for young children. It's not hard to see why either! Hopefully, this Best Elmo toys for Toddlers guide saved you some time and helped you narrow down your search.
Good luck shopping!