Do you have a child who loves to think? If your child is a thinker, then they probably enjoy playing with puzzles, brainteasers and other toys that require them to use their brain to solve a problem. I've put together a list of toys that stimulate a child's mind, which might also help them with their studies, too!
At the end of the day, I believe that children who are stimulated intellectually are healthier, happier and better prepared for the challenges of adulthood. This is why brain toys are so important. If you have a child who loves to think and figure things out, then look no further.
Below I've put together a list of brain toys that you'll probably want to buy your curious child!
9 Mind-Blowing Brain Toys For Kids
Here's my list of the best learning and brain toys for kids in 2022.
1 – Magna-Tiles 100-Piece Clear Colors Set
When it comes to brain toys for kids, the Magna-Tiles 100-Piece Clear Colors Set is one of the best magnetic building sets on the market. It comes with 100 standard size pieces that are made from plastic. These are the original 3D magnetic building sets by Valtech which were invented in 1997.
The pieces easily snap together and come apart for hours of creative play. Kids will love creating their own structures and buildings while they increase their fine motor skills. They really need to use their brains as they figure out how to put the pieces together properly.
The fact that they can build things from their imagination is what makes these so much fun to play with for many children. And for parents, the fact that these toys stimulate their child's mind and imagination is a definite plus.
Overall, the Magna-Tiles 100-Piece Clear Colors Set makes a great toy for kids. And all of the sets are compatible, so it's fun to expand your child's collection. If you want to give your child a gift that will keep them active and engaged, then this is the toy for you.
---
2 – Kindle Paperwhite Kids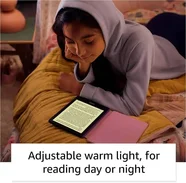 The Kindle Paperwhite Kids from Amazon is a great choice for kids who like to read. It comes with a Kindle Paperwhite (11th generation), a Kindle case, and an extended warranty. Plus, Amazon offers a 2 year worry-free guarantee too.
That's a great value. But with this device, the most important thing is the reading experience. And the Kindle Paperwhite Kids is purpose-built for reading (not a toy). That's why it has a durable, kid-friendly Kindle Paperwhite display. The device is easy to use and includes Vocabulary Builder and Word Wise.
Amazon also offers a 1 year subscription to the Amazon Kids+ service. It includes thousands of ad-free books, games, videos, and apps. Kids will also have access to Alexa skills like National Geographic, Marvel, and LEGO.
This Kindle Paperwhite Kids is definitely worth considering if you're looking to give your child a brain-boosting gift. It's all about reading, which is perfect for kids. They'll be able to use their imagination and increase their vocabulary while they read.
The Kindle Paperwhite Kids has a durable and kid-friendly display. It's easy to use, and it includes fun features like Vocabulary Builder, Word Wise, and OpenDyslexic. It has a black and white, 6.8 inch display, and it has up to 10 weeks of battery life.
Overall, the Kindle Paperwhite Kids makes a great gift for kids. It's a reading device, so it's really about the reading. It's a great brain-boosting gift for kids who enjoy reading.
---
3 – SmartLab Toys Smart Circuits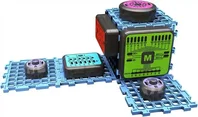 SmartLab Toys Smart Circuits is a science toy that lets you build 50 projects. The fun is only limited by your imagination. You can create a motion-detecting alarm for your bedroom, create a magic message wand, create a Pong game using a pencil, and even create an electronic dice.
The kit includes 48 pieces. It includes the microprocessor, a speaker, a battery pack, a light sensor, a tricolor LED array, a tilt switch, a variable resistor, 2 push buttons, 6 modular boards, 31 jumper wires in 4 lengths, and a 48-page manual. This product does require 3×1.5Vaa batteries, which are not included.
As far as brain toys for kids go, this is definitely for older kids, but it's not an overly complicated toy. It's great for sparking an interest for electronics. As far as brain development goes, the 48 projects are broken down into 10 categories. You'll learn about electricity, electric currents, electric circuits, and more.
Overall, SmartLab Toys is a great toy for kids who are interested in electronics and creating their own projects. It's a great toy for sparking their interest and motivation. Parents will want to supervise the activity, but in our mind, this is a good thing!
---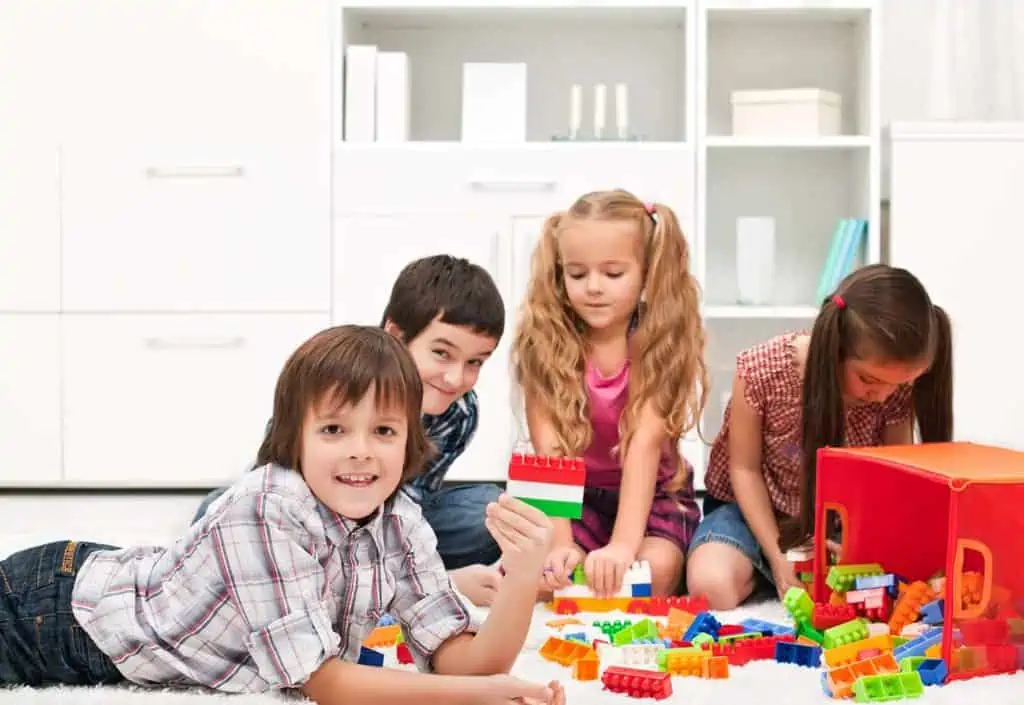 4 – Yoto Player – Kids Audio Player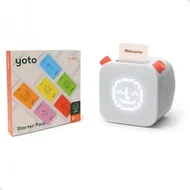 Yoto Player is an interactive audio player toy built for kids, ages 3-12. Insert content cards from their curated library of over 300+ titles into the speaker box / device, for hours of entertainment and learning. Large dials make it easy to change volume and skip forward/back, and it's portable with a rechargeable battery and even supports Bluetooth.
The cool thing about this audio player is that it grows with your child. Let your child's imagination run free with bestselling audiobooks, music and singalongs, educational activities, free childrens' podcasts, radio and much more. Simple animated pixel graphics also enhance your child's creativity, phonics, math and learning experiences.
Kids can also create their own content. Record personalized audio cards for fun playback. Read to your child from anywhere by recording their favorite books or stories in your own voice, sing a favorite song together, or even send special messages your child can play anytime they need to hear your voice. The creativity this allows is amazing.
Overall, Yoto Player is a great toy for kids who are interested in music or having a musical career. We think kids and parents will enjoy this because it encourages creativity, learning, and entertainment. It's a great toy for sparking motivation.
---
5 – Blipblox Synth for Kids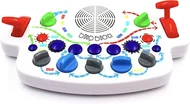 The Blipblox is a musical toy designed for kids. Don't let its size fool you – this is a real musical instrument with fun and friendly features that let kids sculpt their own music. It is engineered to create unique tones and beats those kids love.
The Blipblox is so easy to use. Just turn it on, and start playing hundreds of built-in melodies. Use the colorful knobs and buttons to start creating your own sounds, and your own music.
The Blipblox's synchronized LED light-show provides visual feedback to the music being played, adding sensory excitement to making music. Kids can play the Blipblox anywhere using built-in batteries, or by connecting it with different instruments with 5-pin MIDI In and ¼" Stereo Audio Out.
Blipblox Synth for Kids is so easy to use because it was designed with safety in mind – the knobs can't be pulled off, there aren't any sharp edges or corners, and the plastic case was designed to take hard hits, drops, and spills. Things just don't happen to this one! Blipblox are designed primarily for kids from 8 years old.
Over, this is a good brain toy for kids because it helps them develop their musical skills. It has a range of features that let kids create music, and can connect to other musical instruments so that they can use it in many situations.
---
6 – Montessori Busy Board for Toddlers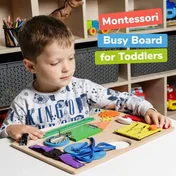 We love the bright colors and the smooth, rich wood feel of this Montessori toy for toddlers. The plastic parts are securely held in place with no small parts for kids to swallow. It has ten fun activities that help your toddler develop his dexterity and coordination.
The shoe-tying activity which helps kids learn to tie their own shoes is really cool. With so many activities, it's easy to see why this is a top choice when looking for brain toys for kids. Some might even call this the "ideal toy!" because it's "screen-free."
Overall, the Montessori Busy Board for toddlers is a great toy for developing strong, healthy minds. Its smooth, rich-colored wood and 10 activities are sure to keep your toddler entertained for hours at a time. If the price is too high, wait for it to go on sale. It's worth the money in either case, in my opinion.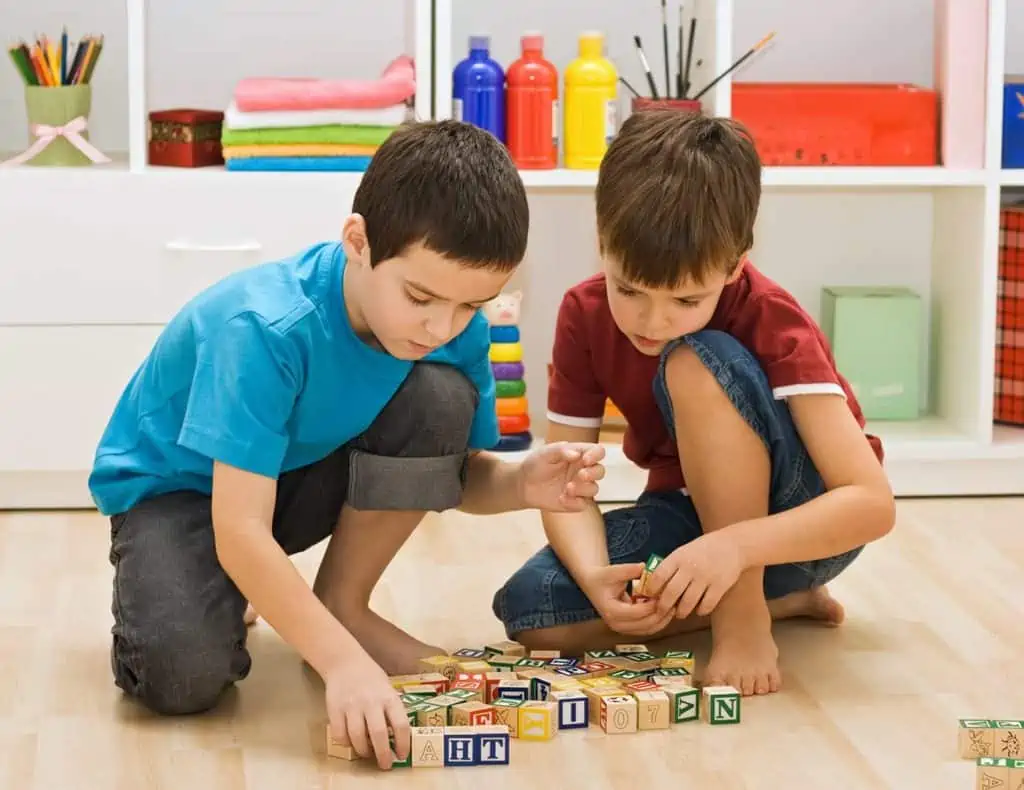 7 – hand2mind Coding Charms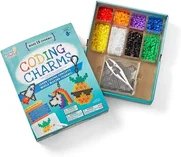 These Coding Charms can teach important life skills to your child. These coding charms include fun and educational learning games that will challenge your child to think creatively and explore with different experimentation. The learning activities are fun and easy to follow.
Coding charms are great for making 10 adorable keychain charms and learn about coding without the use of a computer. You can make all kinds of keychains and charms with this set, so you have a wide variety of options to choose from.
It also comes with an easy to follow activity book, so your child can work individually. The best part is this Coding Charms educational kit is refillable and reusable for your child to enjoy for a long time.
Overall, I think this is an ideal gift for kids because it's easy to use, and it's a great value for its price. This set will keep your child occupied for hours as they learn about coding while creating jewelry – a perfect combination!
---
8 – Grow 'N Glow Terrarium Kit for Kids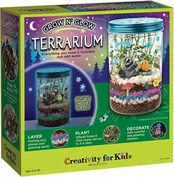 I bought this awesome kit for my daughter's birthday and we were blown away. It includes everything a young botanist needs to plant, grow and enjoy a tiny ecosystem that glows in the dark. This is one of the best gifts for kids that's easy to make and fun to watch!
The Grow 'N Glow Terrarium Kit for Kids allows you to craft, plant, water and grow a mini ecosystem that glows in the dark. The kit comes with everything you need to make and grow your own terrarium.
The set includes a plastic terrarium jar, potting mix, organic chia and wheat grass seeds, glow-in-the-dark sand, star and constellation stickers and a lot more. The terrarium jar is big enough to hold most types of plants and the flower pot holding 15 cups of soil should be adequate for most plants as well.
Overall, I think this is a great kit for kids to learn the basics of gardening and botany from. I highly recommend it! The price is reasonable, and you can get hours of fun and creative entertainment while stimulating your child's brain.
---
9 – Perplexus Rookie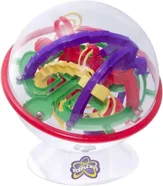 I bought this brain teaser puzzle for my nephew's birthday and he couldn't stop talking about how fun it was. It's a challenging but fun game that improves hand-eye coordination and your spatial relations. It's also great for travel since it's small and the pieces don't get lost.
Perplexus Rookie helps children understand dimensional relationships and motor skills in a fun and unique way. They need to twist and turn the pieces in order to navigate the steel ball through the numbered tracks and barriers. This Perplexus version is easy to play but still challenging to complete.
It encourages children's confidence and dexterity skills because they become more familiar with their spatial surroundings. Once they accomplish a level, they can always strive for a better score. The game's domed finish keeps the ball in place at the end to secure your success! The whole family can join in too.
Overall, I believe it's a great brain teaser game for kids that helps them develop motor and dexterity skills, while improving spatial relationships. The price is affordable too and it's one of the best gifts for boys and grils who are into puzzles. My nephew loved it! I recommend it for children ages 8 and up.
---
Brain Toys For Kids: Conclusion
Brain toys for kids are the best gifts for young children because they encourage kids to exercise their bodies and their brains. Research shows that kids who exercise their bodies not only become stronger and healthier, they also become smarter.
At the same time, brain toys are also the best gifts for grown up kids, because they keep your mind sharp and prevent Alzheimer's disease. Brain toys games improve memory and make you more creative. It's one of the best ways to keep your mind sharp and young. It's also great for people with autism and ADHD because it keeps them focused and helps them develop social skills.
If you enjoyed reading this article, please stop by our Facebook group so my boss stops yelling at me! Haha. Just kidding!
Until next time…