Reading is important to your child's development. I've put together a list of 12 hilarious books for kids that they will love. With so many online distractions these days, books can be one way to limit other screen time. Whether it's a physical paper book or an eBook, getting your kids to read is a great way to get them away from the computer, TV or video games.
You might even find yourself laughing out loud while reading these books together! Books can help improve vocabulary, spelling, and increase knowledge. I have enjoyed reading with my nieces and nephews since they were young. Even though they are getting older, we still enjoy reading together. Here is a list of our favorite funny books to read together.
5 Funny Books for Kids
Here's my list of twelve funny books for kids that will get them interested in reading!
The Monster at the End of This Book by Jon Stone
In this classic book from Sesame Street, Grover (who played himself) is trying to keep the reader from reading the last page. This is one of my favorite Sesame Street books from my childhood, and now my niece and nephew love it too!
What's wonderful about this book is that it's been loved by children from multiple generations. There's a good chance you'll find it at your local library, but I think it's fun to have your own copy at home.
Don't Let the Pigeon Drive the Bus by Mo Willems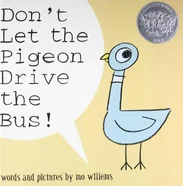 This is a ridiculously funny book. A bus driver decides to take a break, so a pigeon steps up to the plate to drive the bus. This is a great interactive book.
Even better, Mo Willems is a long time Sesame Street writer. You can really see it in this book. You'll most likely be laughing and reading this with your kids.
Aliens Love Underpants by Claire Freedman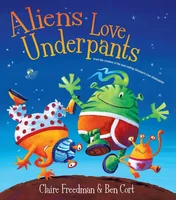 A swarm of aliens flies down to Earth, and meeting people is the last thing they want to do. What these silly aliens really, really want…is to steal underwear!
They love all sorts of underwear. This is a great silly book. It's funny, and the art is fun too. It may be a bit too silly for some parents, but underwear is always a hoot for children.
The Great Fairy Tale Disaster by David Conway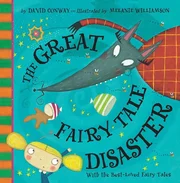 The big bad wolf is done with the three little pigs. What does he do? Invade some other fairy tales. The problem is that it never quite works out how he wants.
If your children are already fans of fairy tales, they will love this book. Illustrated by Melanie Williamson, it's a lot of fun. I like to read this out loud and change voices for the different characters.
Duck! Rabbit! by Amy Krouse Rosenthal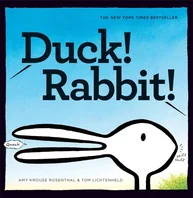 Is it a duck… or a rabbit? This book is a great way to introduce kids to optical illusions and the idea of looking at things in more than one way. It's also got a funny story that while simple really packs a punch.
This is the same author who wrote Little Pea, Little Hoot, and Little Oink, so if you like either of those books, you are sure to like this one too. I really love the art in this one too.
Reading is Important
Getting children hooked on reading at an early age is very important. There are so many benefits to reading. We've written about how reading can help your child learn to read, but we'll be discussing it even more in the future.
Teaching a child to love reading will help them in more ways than one. In the modern world where the average attention span is lower than ever, reading books together can help improve communication and understanding.
Reading is just as important for parents. It's a great way to relax and unwind at the end of the day. It's a great way to learn and increase vocabulary. Reading can also be a great way to de-stress and unwind in the evenings.
Whether your child is already a book-lover, or you're looking to get them into reading, hopefully this list will help you out. They'll love these books and you may find yourself laughing as you read them together.
More Funny Books for Kids
Have your own favorite funny kids' books? Head over to our Facebook group and share with us! I'm really excited to hear about your favorites.