When talking about face painting for kids, as a parent you should want something that is fun, easy to use, and, most importantly, something that is safe. Lucky for you, that's the goal of this post!
I've written this exhaustive guide dedicated to face painting for kids as a part of our fun play ideas series here at Hoosier Chapter Books. It's part of our ongoing effort to help struggling parents all over the world – although primarily in the United States where we will.
Face painting is a great excuse to dress up, go out, and get creative! You'll learn how to choose the best face paint for kids, how to stay safe with face painting for kids, as well as some fun face painting ideas. We'll cover all the basics to make sure you're prepared for your next celebration!
Face painting for kids? Let's go!
Face Painting for Kids: Safety
First off, we're going to look at safety. Safety is the number one concern when it comes to creating festive face paintings, and there are a few basic steps to ensure everything goes smoothly and everyone's happy.
Is face painting safe for babies?
While the paint may say it's non-toxic and safe for all ages, we do not recommend face painting for kids under 3 years of age in most cases. Granted, we love the idea of giving a young baby a little face paint, the paint likely won't be applied correctly or in a manner that's fun for the baby.
The problem is that babies love to feel with their hands, and it's possible some of the paint from a face painting kit could make its way into the baby's mouth. While it's non-toxic, we don't recommend face painting for kids under 3 years of age.
Can a 1 year old have face paint?
As mentioned, we think it's best to wait until kids are at least 3 years old before applying face paint. The main reason is that face paint becomes less safe when you have kids touching their faces, trying to put it on the cheeks, and generally unaware about the potential for small amounts of paint getting into their mouths.
For this reason, it's best to wait until your kid is 3 years old or older and even then, you want to take precautions to ensure the face paint doesn't get into their eyes, their mouth, or anywhere else it shouldn't be.
Which paint is safe for skin?
Good question! Not all paints are created equally. When face painting for kids, you want to make sure to use water-based non-toxic paints only. This is because oil paints can clog the pores and cause acne, possibly even long-term damage to your skin.
Water-based face paint comes in a wide variety of colors and features high-end ingredients. These paints are high quality watercolors and are generally free of irritating substances. Again, the number one concern with face painting for kids is safety.
Is face paint harmful?
Some face paint is extremely harmful, some is mildly harmful, and other face paints are perfectly fine for use. You want to make sure you're using face paint that features high-quality ingredients and that's safe to spread on kids' faces.
Make sure to read the side and back panels of your face paint. Ideally, you want to use face paint with a non-toxic ingredient list, paraffin free, no alcohol or petroleum jelly, and non-comedogenic. These are the main ingredients that should not be present when buying face paint for kids.
Face Painting for Kids: How-To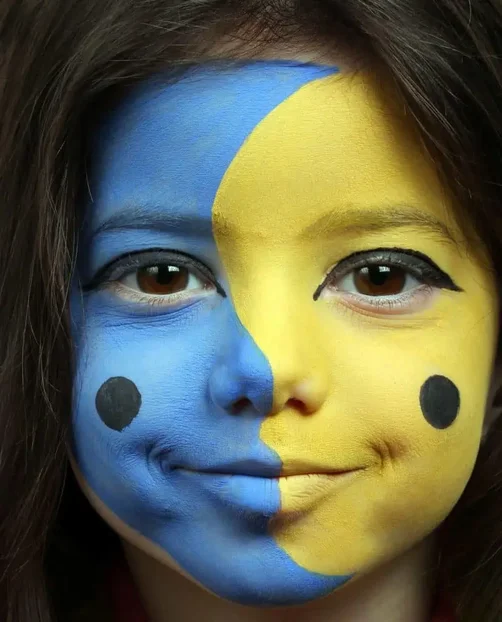 Next, we are looking at some specific steps to follow when it comes to face painting for kids. This section is important to ensure a safe experience.
What age is good for face painting?
You don't want to face paint a baby younger than three years old, but in general, children aged 6 to 70 are good candidates for face painting. You want the person old enough to understand what's going on and be able to enjoy the experience themselves.
How do you face paint kids?
Very carefully! Haha. In all seriousness, it's not difficult. There are many kits available these days that have everything you need. You will want to use a stencil if possible. This will ensure you get an even line around the eyes, mouth, and other places.
Be sure to follow the instructions in the kit and apply the paint as directed. You should avoid using your fingers to apply the paint, as this is a major risk for infection. Ideally, you want to use a soft brush to apply the face paint. You can also use an eye shadow applicator or makeup sponge if you don't have a brush handy.
Can you get rid of face paint?
Yes, yes you can. Face paint has a tendency to smear all over when you sweat, laugh, or have a drink. There are a few steps you should follow to remove face paint or at least lessen the amount on your face.
How to clean face paint off?
First, take a warm, wet washcloth and press it firmly against your face. You're going to want to wash your face from the outside of your face to the inside of your face. Some people recommend using soap, but this is not necessary.
Once you've wet your washcloth and pressed it firmly against your face, let it sit for a few minutes and then gently wipe it away. Your face should be clean and you should be left with no extra face paint.
Face Painting for Kids: Buying
Next up, we're looking at the process of buying kits for face painting for kids.
Which is the best paint for face?
There are many kits that come with everything you need to create a variety of designs. You'll have different colors, brushes, and various stencils.
The great thing about these kits is that you have everything you need to create a fun, safe, and exciting painting experience! They are made with high-quality, non-toxic ingredients.
What is cost of face paint?
This varies, of course, but kits can range from $10 to $50 depending on the brand name and features.
You will want to look for a kit that's non-toxic and safe for kids. You can break down the cost by how many faces you'll be painting.
What paint to use for kids face painting?
Again, and we can't stress this enough, you will want to use water-based paints with a brush. Water-based paints are great because they're easy to clean up and safe for kids.
Face Painting for Kids: Closing Thoughts
Face painting is a fun and inexpensive way to get your kids interested in arts and crafts. It's also a great way to spend quality time with the kids.
If you're looking to do a birthday party or some other celebration, you will want to look into getting a kit. There are many great kits that allow you to face paint with ease. It's a lot of fun, but it can also be messy, so make sure to keep everything organized and clean.
In closing, I'd like to thank that you for reading this article!