Being emo (or having an emo aesthetic) was once a slang term used to describe a hardcore punk subculture, but usage of the term has evolved dramatically over the past decade. Today, emo is simply used to describe a style of music and the term emo boys and emo girls is used to describe teenagers that look and act a certain way – usually moody, emotional, and perhaps a tad bit overemotional. (Yes, typical teenager stuff, but taken to an extreme!)
In this guide I will discuss what emo is, how emo teenagers dress and act, and my top 3 picks for emo gifts for teens. (Remember, here at Hoosier Chapter Books, we're all about quality over quantity! Who has time to read a list of 200 gift ideas. Am I right?)
Ahem. Back to our regularly scheduled blog post!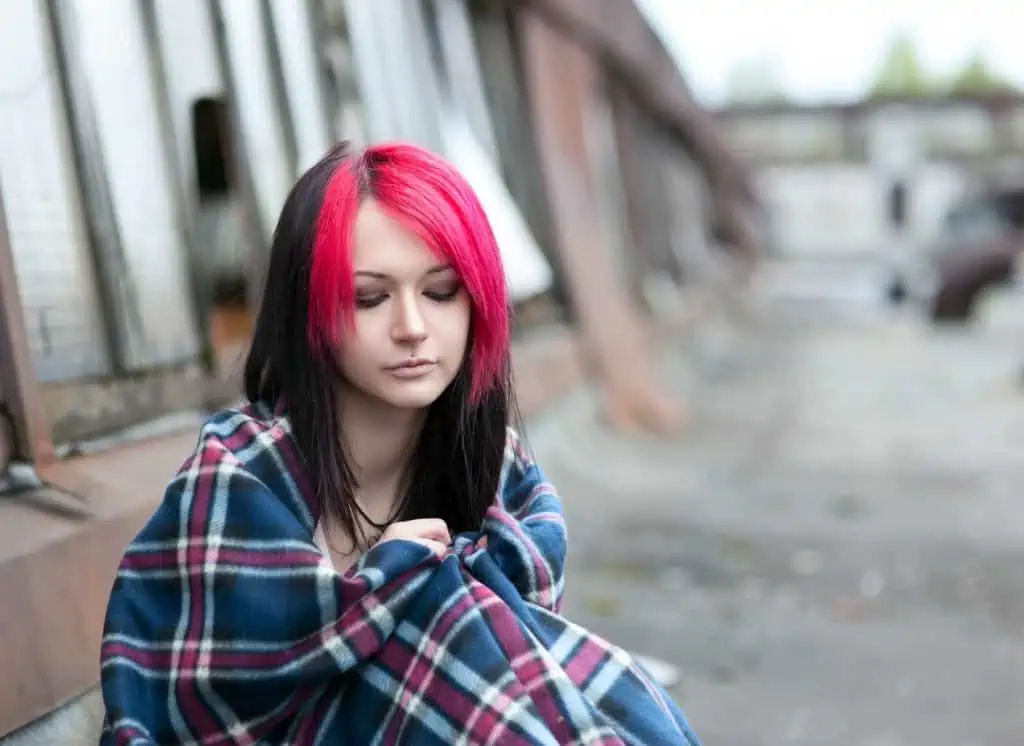 Emo Aesthetic: Understanding Teen Life
One of the most difficult things a parent can do is raise a teenager. Being a teenager is hard in and of itself, but when you add in the social pressures and the need to find your own identity, it becomes downright challenging!
One thing that can add to the difficulty of raising teens is the fact that today's youth are far more moody than teens were in the past. The word "emo" is used to describe music and its subculture, but it is also a term used to describe teens that act a certain way.
Typically, emo teens have a dark and somber appearance, which is made up of lots of black clothing and dark eyeshadow and eyeliner. Emo teens are known to listen to emo music, which is a genre that's known for its intense feelings, heavy beats, and angry lyrics.
While emo is associated with teenagers that dress in black and listen to aggressive music, it's also known for the emotional feelings associated with the subculture, as well as its overuse of metaphors, cliches, and other devices that are meant to evoke strong emotions.
Emo Aesthetic: What You Need to Understand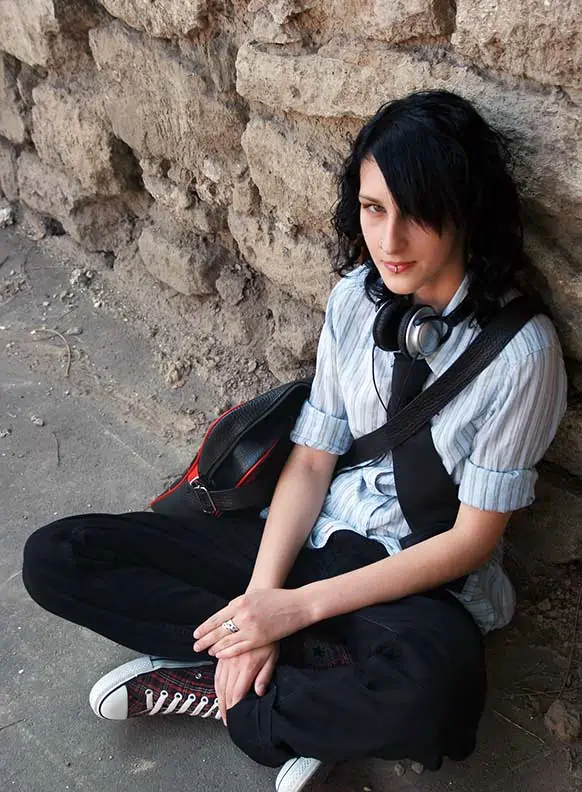 There can be confusion and mystery surrounding the emo aesthetic and emo culture. On the one hand, emo culture is a legitimate subculture with its own culture and various norms. On the other hand, it is also used as an umbrella term to describe a person that wears black clothing, listens to music with angry lyrics, and has a gloomy appearance.
The difference between "emo" and "goth" is subtle, but you can see it if you look closely. Gothic kids are typically known for listening to the dark and sometimes disturbing music, but they also happen to have dark and somber appearances, as that's just part of the subculture. In addition to dressing in black, goth teens often wear black makeup and have dark hairstyles.
Another difference between emo and goth is the music. While both subcultures are known for the dark and somber appearances of the music, emo is also known for its angry lyrics, while goth is more known for its dark and gloomy lyrics.
The main difference between the two subcultures is that goth kids aren't necessarily going through a hard time in their lives, while emos most likely are going through a difficult time. Emo kids wear all black, have dark makeup, and listen to angry music because of not knowing how to deal with their emotions in other, more productive ways.
One of the most frustrating parts about being an emo kid is them dealing with their over-emotional, over-sensitive feelings. They might be someone that easily cries, which can make them feel very uncomfortable in social situations. It's hard to put people off, and it's even more difficult to explain to others why they feel the way they do. Hence, latching onto the emo aesthetic.
Emo kids come from all walks of life. They aren't necessarily the most popular kids in school, although they might be the types of kids that stick together and form their own little group of friends. Emo kids are usually very philosophical and tend to be very introspective, which is why they like listening to music that makes them think about topics of a negative nature.
3 Perfect Gifts with an Emo Aesthetic
If you are looking for a gift for an emo teen, or if you want to treat yourself, look at the top 10 picks for emo gifts for teens.
Aodrusa Women Patch Flare Jeans

The emo aesthetic is strong in these jeans! I'm all about that tight, stretchy flare, and they definitely deliver! Aodrusa's signature patchwork-and-cut style can be seen from across the room, and the high waist keeps everything nice and tidy.
Your emo teen will love these jeans because they're comfortable and easy to move around in. They also look nice with boots. I think the patchwork design really stands out in an otherwise simple design and will get the person wearing them some attention.
The material of the jeans is soft, and it stretches just enough. It's really nice because it's not so stretchy that it becomes a weird fit. I also appreciated the zipper fly. Overall, these are a great pair of jeans for a number of different reasons. I really like them an think they make a great gift with an emo aesthetic.
---
Vintage Heart Embossed Leather Journal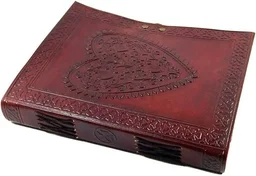 The emo aesthetic isn't as strong on this gift idea for emo kids, but it's still a nice item to buy for a teen who is into writing and blogging. This journal has an old-world style that is nice and rustic. The paper quality is good, and the leather is top quality as well. Overall, high quality.
This is a great gift idea for a creative writer who likes physical books. This journal is both simple and elegant, and it would be a nice gift idea for a birthday, Christmas, or other special occasion. Buying for emo teens isn't easy, but this is a good choice.
Overall, if you're looking for an emo aesthetic gift, then you're going to find it in this product. I would definitely consider buying this as a gift. It's a great, simple product that represents the style well. And it's connected to writing – which is a good and healthy thing for a teenager to be doing.
---
Normal People Scare Me Sweatshirt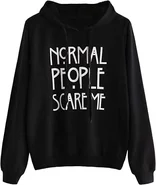 An emo aesthetic sweatshirt like this one is a great gift for a teenager who loves the emo style. Not only does this sweatshirt feature a cool design, it's made from a durable material that will last for years to come. This gift is a perfect way to show someone you care.
While you might not "like" the witty saying on the front, most emo kids will find it comforting and maybe a little funny. This is a great sweatshirt for everyday wear, to and from school, or when hanging out with friends.
I highly recommend this product if a teen you know is an emo fan and wants some of that emo aesthetic in their wardrobe. This is a great gift idea and it's a great value for the price, in my opinion.
---
Emo Aesthetic FAQ
Here's some frequently asked questions parents have about an emo aesthetic and what their child might be going through.
What is emo aesthetic?
An emo aesthetic refers to the style of clothing, makeup, and hairstyles commonly worn by emo teens. Emo style was originally a form of hardcore punk in the 80s, but it has changed into a subculture with its own set of norms.
Today, emo, as a culture and subculture, is typically made up of teens who have darker clothing, have darker makeup, and wear their hair in darker colors. Emo teens are known for having dark emotions, wearing dark shoes, and listening to music that has dark lyrics.
What are emo kids?
Emo kids are teenagers who like to dress in all black, wear dark makeup, and listen to angry music. Emo kids typically have dark hairstyles, dark colored shoes, and play very angry music. In general, they're like misunderstood teenagers taken to the Nth degree. If you want to figure out if the person you're talking to is emo, the best way to tell is to look for the telltale characteristics.
Who started emo?
Born on the West Coast with hard rock punk bands in the 1980s, emo subculture shifted in the 90s up until today. Most credit the band started emo as The Rites of Spring. Over the years, many people have added to the genre of music, and a whole new subculture has been created.
What is emo music?
Emo music is a subgenre of punk and indie rock. It is known for its intense vocals, heavy beats, and angry lyrics. The genre of music has been around for a long time, and its history can be traced back to the early 80s.
What is emo fashion?
Emo fashion is a style of dress that is popular with emo teens. Emo fashion is characterized by a dark and somber appearance, characterized by dark colors and dark clothing. Emo fashion typically includes wearing dark makeup, with dark nail polish, dark eyeshadow, and black eyeliner.
What is emo makeup?
Emo makeup is a style of makeup that emo teens wear. It typically involves wearing black eyeliner with black eyeshadow. Some emo teens also wear black lipstick and mascara.
What are emo hairstyles?
Emo hairstyles are a style of hair that emo teens typically wear. Emo hairstyles often involve being dyed in darker colors, typically black, blue, red, or purple. Emo teens are often known for having dark hair or hair that is dyed in colors such as black, blue, red, or purple.
What is emo fashion for boys?
Emo fashion for boys is the typical style of dress that emo boys wear. Emo boys typically wear black or dark colored clothing. Emo boys are known for wearing dark colored shoes. They also typically wear dark colored nail polish and have dark colored hair.
What is emo fashion for girls?
Emo fashion for girls is a typical style of dress that emo girls wear. Emo girls typically wear dark clothing, such as black or dark colored clothing. Emo girls are known for wearing dark colored shoes. They also typically wear dark colored nail polish and have dark colored hair.
What is an emo hairstyle for girls with long hair?
An emo hairstyle for girls with long hair can be anything from long black hair with a side bang to long red hair with purple streaks. Emo will typically dye their hair dark colors, such as black or blue. Emo girls are known for having dark colored nail polish.
Why are Emos called Emos?
Emo started as "Emocore," which is a contraction of the words "Emotional" and "Hardcore." Emo music was originally a genre of rock, characterized by an emphasis on emotional, often confessional, lyrics. The heavy, emotional sound of Emo made it a popular genre of music.
Emo Aesthetic Conclusion
Emo is a very complex culture with many different subcultures. There are many different types of emo, including punk, hardcore, screamo, and goth. There is even an emo subculture in Japan! If your child is an emo kid, be sure to support them during this difficult time in their life.
Be sure to tell them that you love them no matter how they dress or how they act. For most teens, it's just a phase they go through. If you resist too hard against them, it may just entrench them deeper into their emo lifestyle.