Do you want to find some easy card games for kids for the long winter months? I've created a list of the easiest games involving cards with kids in mind. Some are fine for children to play alone while others are better played with an adult or parent.
A few titles on this list are ones that I played as a child while others I haven't ever played. I've read the reviews, talked to other parents, and done my research, so I can bring you this list of the very best of the best and save you time.
Let's get started, shall we?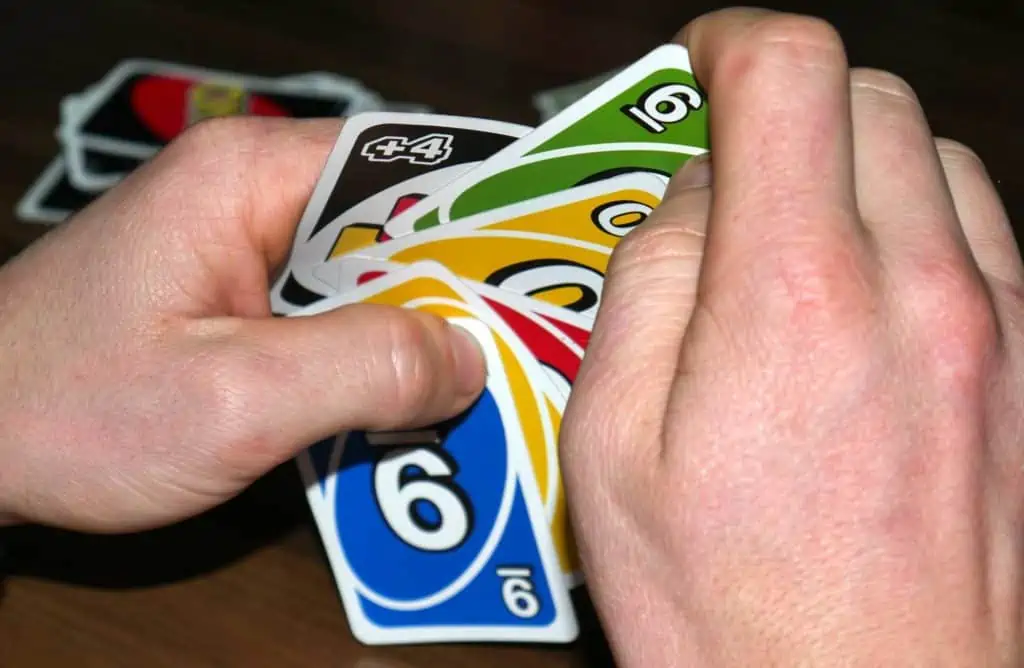 Best Card Games for Kids
Here's my list of the best card games for kids. This list includes both fun and easy to learn games that are great for kids of all ages. I've broken them down into separate age groups so you can figure out which game is best for your child.
---
For 3 to 6 Year Olds
Here's our picks for the best and easiest games for three to five year olds.
Guess in 10 Junior Animal Kingdom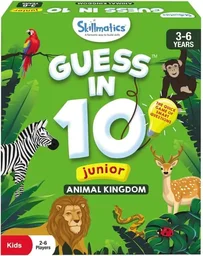 This exciting Junior edition of Guess in 10 will help kids learn while they're playing! Kids can develop social, communication, problem-solving, decision-making and creative thinking skills while they guess the animal on the card.
There are 35 cards, 10 question guides and a handy box to store it all. The box is portable and travel-friendly. No reading required in this game. It's fun for preschoolers. The award-winning Guess in 10 game is for children ages 3 to 6.
Overall, I think this is great for the preschool set. It encourages learning without reading and has easy to follow instructions. The game is fun and educational and is a great gift for anyone who has a preschooler. Card games don't get much better than this one, in my opinion.
---
Smack it!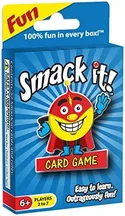 This is a fun and exciting game that kids and families will love. It's easy to learn and outrageously fun to play. The game is fast and perfect for younger kids to play with adults. younger children can play the game and have fun with adults. Older children can practice their math skills.
The game is easy to teach, and it can be played by 2 to 7 players. The box is portable and makes a good addition to your game collection. Children as young as 6 can play, but it's usually better with older kids because it's a fast-moving game.
Overall, I think this is a fun game for families. Kids love it because it's fast moving and it's a family game. It can be used to reinforce math skills, so it's a fun game for kids who need to practice. Grab one for game night! When it comes to card games, this one is cheap, easy to learn, and a great time for the whole family.
---
For 7 to 8 Year Olds
Here's our picks for the easiest and most fun games for six to eight year olds.
Taco vs Burrito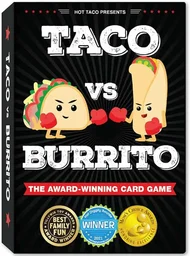 If you're looking for a fun game that the whole family can enjoy, you need to try Taco vs Burrito. Kids have been enjoying this game for years. The game is easy to learn and fun to play. It's a great game for parties and anytime the family is together for a special occasion – or just want to do something different together.
The game consists of 56 cards, four taco and four burrito card holders, an instruction booklet and three quickstart cards. The basic gameplay is easy to learn. The Action Cards add a twist to the game.
A seven year old created the game, and it's a big hit with kids, teens and adults alike. The gameplay is quick and exciting. The game can be played by 2 to 4 players, and it takes only a few minutes to learn. Overall, I love that this was designed by a seven year old – and that it's such a great game.
---
Travel Edition UNO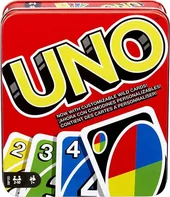 This game is perfect for kids 7 years old and up. Over the years, UNO has become a classic, even inspiring a bunch of memes. The game is simple. You either match the color or number of your card with the card top of the deck or you don't. If you don't, you have to pick up one card.
Your goal is to get rid of all your cards, so you have to think about whether you should play a card now or wait. There are special action cards that let you skip or reverse the order of play. If you're down to just one card, you have to yell "UNO!".
As mentioned, this is a favorite. The sturdy storage tin is perfect for travel. The game is great fun for the whole family. This is a must-have for a family car trip. It's also a great choice for this holiday season. Every player starts with seven cards, and the goal, as mentioned, is to get rid of them before everyone else.
Younger and older kids love it. This is a fun game for kids and adults alike. Kids will enjoy the colorful cards and the familiar game play. Getting rid of seven cards is not as easy as you think with all the special cards in the deck and the draw pile where you never know what you'll get next. Overall, you can't go wrong with this classic card game, and I think it's a winner.
---
UNO FLIP! (Travel Edition)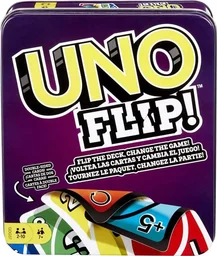 UNO FLIP! is a classic card game with a new twist! The game includes a double-sided deck and special FLIP card to give the game a competitive edge. Play the flip card and the entire deck is turned over to reveal an entirely new set of numbers and colors on the opposite side. The first player to get rid of all seven cards wins.
UNO FLIP! also comes with fun new action cards like the Skip Everyone and Draw Five cards. The game is perfect for adults, kids and teens 7 years old and up. This fun family card game comes in a sturdy tin that is great for storage and traveling.
Overall, my family loves this new take on the classic. It's easy to learn how to get rid of your remaining cards. Well, until someone FLIPs the cards on you! Love it! Even the draw pile is flipped over. A player wins when they get rid of all their seven cards!
---
Goliath Sequence Stacks Card Game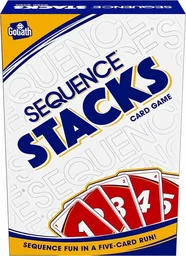 You've probably never played a version of SEQUENCE like this before! It's easy to learn, but a challenge to master. Each player starts off with a hand of five cards, and the top card is played on the first stack of sequence cards in the middle of the table.
The rules are a bit difficult at first, but once you go a few hands, it's easy to get the hang of it. Just remember to play the cards from your hand or from the top of your deck. The first player to complete the run gets to capture all of the cards on that stack.
Again, this game is hugely popular and has become a family favorite. It's a fun game for 2 to 4 players, ages 7 and up. Overall, this is a great game for fun – and it makes a great gift. If you play card games, you'll love this interesting take on the genre.
---
For 8 to 11 Year Olds
Here's our picks for the easiest games with cards for nine to eleven year olds.
Apples to Apples Junior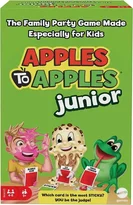 The family party game Apples to Apples is now available in a junior version! This card game will delight your kids as they learn and have fun while they compare apples to apples. Kids as young as 9 years of age can enjoy the game.
The judge is chosen at random. The judge chooses a green apple card and the other players choose their best red apple cards. The judges then decide which one is best. This is a great way for kids to practice their descriptive skills.
The family party game is easy to learn and exciting to play. It's fun for children of all ages, even adults. It's one of the family games that everyone loves to play. Overall, I think this is a great game for kids. It's easy to learn and can help children develop their descriptive skills. It's a fun game for families!
---
What Do You Meme? Family Edition
What Do You Meme? Family Edition has all the adult content removed for family-friendly fun! Compete with your friends and family to create the funniest memes. Do this by using one of your dealt caption cards to caption the photo card in each round.
Each round, a rotating judge decides the winner. Knowing this, you should pick the caption card that best fits the judge's personal sense of humor. This game is hilarious and the judge of each round will have a hard time choosing the best caption card. The winner gets to keep that round's photo card as a point.
This game contains 300 caption cards, 65 photo cards, and instructions. If you love memes and want a family friendly way to enjoy them, pick up WHAT DO YOU MEME? Now! You'll need three or more players, but it's a blast for the entire family, even uncle Chuck.
---
Spy Alley Card Game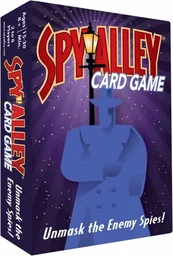 Become a secret agent in this fun and exciting card game. Outwit your opponents and collect your spy equipment/documents before your opponents discover your identity. This game is a lot of fun, but it is also educational. Kids can learn about espionage, and adults can learn about recognizing facial expressions.
Okay, okay, maybe it's not that educational, but it's still fun. The gameplay is easy to learn and a bit challenging. It's also easy to set up and take down. Games usually take around 15 to 30 minutes for 2 to 6 players. This makes it a great game for kids, teens and adults alike.
Overall, I think this espionage game is a great way to have fun with the family. Your mission, should you choose to accept it, is to try this game for yourself! In all seriousness, this game uses cards in a unique way and is a ton of fun for the whole family.
---
Do You Really Know Your Family?
Are you really up to date on what's going on in your family's life? Do you know their favorite colors? Favorite food? This fun card game will have you laughing while getting to know more about your family.
The rules are simple, and it's easy to learn. The entire deck has funny questions. Most of the cards will get you laughing. You can even play a round for each family member. Whoever has the most cards at the end of the game wins. You might not like all the cards, but it's still a lot of fun. Your family will love it!
I think two to eight players is the best number. My family enjoyed learning a little about each other, and I think this is a great way to get your kids to open up and talk. It's not really a fast paced card game, but after a few rounds, you get into the groove of things.
The standard deck makes for a hilarious game, and the object of the game isn't like a lot of other card games. Simple card games like this one, though, are necessary in any family's collection. It's fun and will have you laughing. I recommend adding this game to your collection. You can take out the questions you don't like, and the remaining cards should be enough to still have fun.
---
For 12+ Year Olds
Play continues with our selections for kids twelve year old and older.
Exploding Kittens
Exploding Kittens, a card game for people who are into kittens, explosions, lasers and sometimes goats, is the most-backed adventure game in Kickstarter history, and all time. The game features illustrations by The Oatmeal and has been featured in the New York Times, Wired, Mashable, and The Huffington Post.
The game includes 56 cards, a box and instructions. The game is simple, and it doesn't take long to play. The goal is to not draw an exploding kitten card. If you draw an exploding kitten card, you lose. You can avoid exploding kitten cards by using other cards such as a "laser" or a "shield" card.
Overall, I think this is a fun game that can be enjoyed by both kids and adults. It's easy to learn and play. The cards are well-made and will definitely stand up to abuse. Great gift for kids and adults alike! All the cards have great art, and I think you'll really enjoy playing.
---
Here to Slay (Base Game)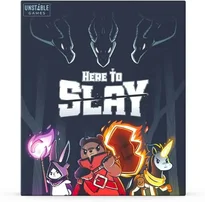 TeeTurtle Here to Slay is an easy-to-play, fun game that is perfect for both beginners and those with advanced roleplaying skills. The base game comes with a standard deck of 115 cards, 6 Party Leader cards, 15 oversized Monster cards, 2 six-sided dice, and 6 rules reference cards.
Games usually take 30-60 minutes to play and is for 2-6 players (recommended for ages 10+). One of PopInsider's best geeks gifts of 2020, Here to Slay is a great gift for any RPG lover. Let the battles begin!
This card game is a great way to introduce your kids to RPG's as they battle their way through a variety of enemies! It's an advanced game that will offer hours of fun as players explore a new and dangerous world. TeeTurtle also makes Unstable Unicorns. All the cards in this game have outstanding art.
---
Other Classic Card Games
Here's some other classic fun card games that your family can play with a normal deck of playing cards.
Old Maid – Pairs are laid face down in front of player. Game continues until are pairs are on the table. The last queen card is the old maid! Best played with two to eight players, Old Maid is a classic.
War – High card wins each round. If players have same card, the face up pile (kitty) grows. Each player flips over the top card of their pile, and the highest ranking card wins. Play continues until all the cards are won or lost.
Rummy – Fun card game that goes way back. Pay attention to the discard pile. Suitable for a number of players. (Miss you gramps!)
---
Closing Thoughts
When looking for the best games for kids, it's important to find one that is fun for the kids and easy to learn. These types of games can encourage learning and help children to continue to develop.