Hello, again! I'm happy to be back with another guide to help you understand pretend play with toddlers, including why it's important, how to play this way with your toddler, and what you can do to stop boredom or a longing to return to the screen – ie laptop, tablet, or phone.
By the time you're done reading this guide, you'll be more informed about why taking the time for "make believe" with your toddler is so crucial for their development and their happiness. Learn how you can work together as a family to help your young one.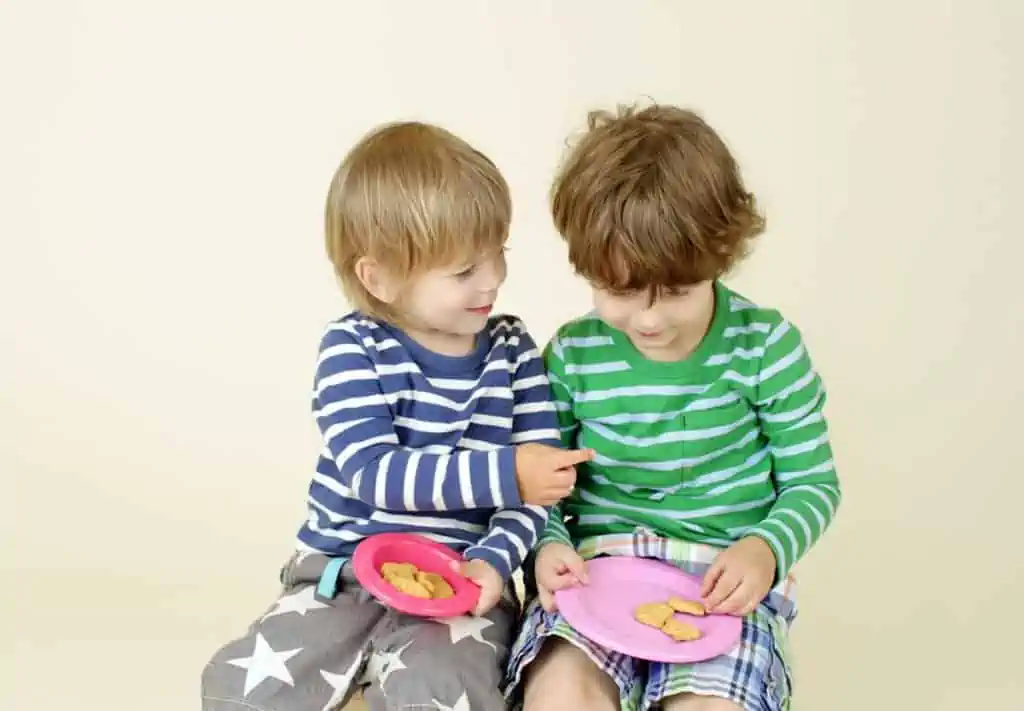 What is pretend play with toddlers?
Pretend play with kids incorporates the use of make believe. This play acts as a bridge to the outside world, allowing children to "test" their own ideas in a safe space, using imagination and creativity. This can help develop thinking skills because young children learn by doing. Toddler play can help develop thinking skills as your child grows.
For many kids (and adults), pretend play allows them to step into a new world of possibilities, taking on new roles and responsibilities, trying new things and practicing social skills. Pretend play gives children the chance to create contexts for their lives. It helps children to try on new expert roles and gives them a sense of emotional control.
While pretend play has been studied for more than a century, there is still very little understood about exactly how it works. It is largely believed that pretend play develops through a variety of components, such as a child's increasing awareness of themselves, the world around them, and how the two interact.
Pretend play gives children the chance to create contexts for their lives. For pretend play to be enjoyable, children need help with learning how to distinguish between reality and fantasy within the play context. That is, just like there are more and less realistic movies, kids also need to learn how to determine the boundaries of reality within their pretend play context.
Why is pretend play important?
Pretend play with toddlers is critical. As your toddler's ability to understand and recognize the world around them grows, their pretend play skills also mature. It happens in stages, too, as children learn how to make their fantasies come to life, so to speak.
This kind of play helps kids to develop imagination and creativity, social skills, and cognitive abilities. In fact, pretend play is more than just fun and games, a fun way to pass the time. Pretend play is actually critical for children's language, cognitive and social development.
On top of that, pretend play with toddlers also helps kids to develop important social skills, such as:
The ability to make friends and play with others.
The ability to distinguish between reality and non-reality.
The ability to play with others, share and take turns, as well as understand personal space.
The ability to interact with others.
The ability to be considerate of others.
The ability to understand others' emotions.
These are all important social skills, especially as we watch the kids of today grow into the adults of tomorrow. Because pretend play mirrors real life, it helps kids learn how to navigate the worlds and issues that they will face as adults.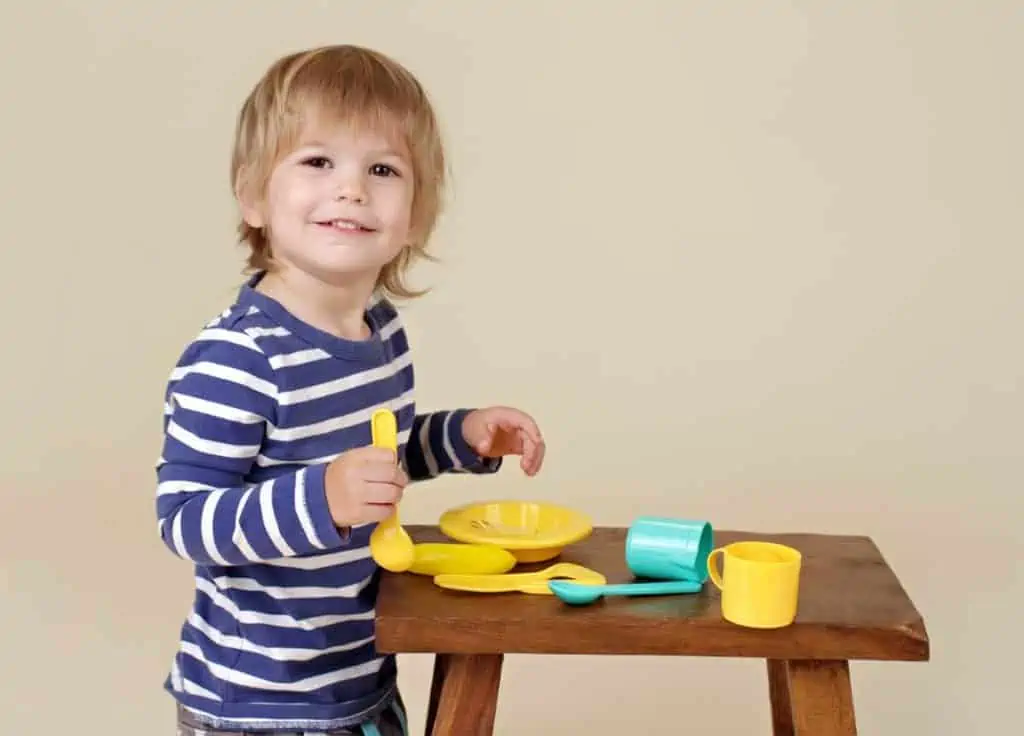 How to play make believe with your toddler
Pretend play allows toddlers to express themselves, try new roles and new emotions, and practice skills that they can't try in the real world. It also gives toddlers a chance to be more like adults, in a safe environment. Here are a few ways to help toddlers develop better social, emotional and cognitive skills through pretend play:
1 – Encourage imagination.
As your child's imagination grows and expands, pretend play becomes more fun. You can also help your child to play imaginatively. Here are a few ways you can do that:
Let them know that it's okay to pretend.
Pretend that you're a superhero.
Do a silly dance.
Have a tea party.
Build a play house
Bring stuffed animals to the zoo
Role play "school."
Bring the fantasy play into your household and the everyday things you do. Pretend that you're a farmer, a baker, a teacher, a doctor… which can help with child development. And we all know how important early childhood development can be. Young children need to be encouraged to spread their imagination-wings and fly.
2 – Encourage pretend-play props.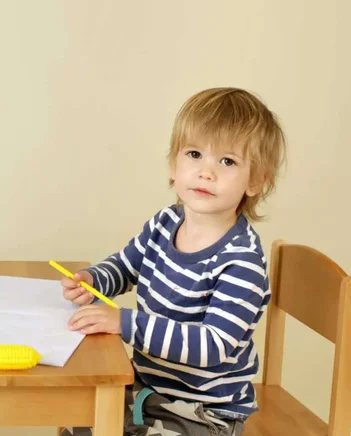 To help with their play, try to think of things that your child can use as props. For example, try to think about things that you have lying around that make for good pretend-play toys. These can help your child imagine themselves in someone else's shoes for a while – i.e. pretend play. Kids enjoy playing in this way, but they can learn at the same time.
Pretend school desk
Pretend plates and cups.
Pretend toothbrushes.
Pretend forks and spoons.
Dress up clothes.
Toy phone.
Birthday cake.
Pretend books.
Large cardboard box.
Water play kits.
… and so on. Young toddlers sometimes need props to help spur the imaginative play. This can bring joy to a child's life, though, so it's important to make sure they have the tools necessary for pretending while they learn about symbolic play. A toddler learns by doing, and having these props can help develop their imagination in creative ways and rely less on screen time for fun.
3 – Teach them how to interact with others.
Kids are continuously developing their ability to understand others and to play with them. They learn from watching the adults around them, so set a good example and help develop their language skills by using a real object for solving problems.
When you play with your toddler, pay attention to how you interact with them. Using your imagination and encouraging pretend play are just a couple of ways that you can help your child learn. This is great for older toddlers.
4 – Encourage your children to try new things.
The more kids practice, the better they get at it. It's that simple! Remember, pretend play gives children the chance to try on new expert roles and gives them a sense of emotional control.
The ability to try new things and make mistakes is so important to kids, so encourage it! If they are playing a make believe game, they might try a new "job" or "skill." Think about how to get your child to try something new.
For example, if your child is playing "dentist," they might try a new way of cleaning teeth. This can be a great way to get them to look down into the sink, or to think about washing their hands. (Beware of loose parts on kitchen play sets…)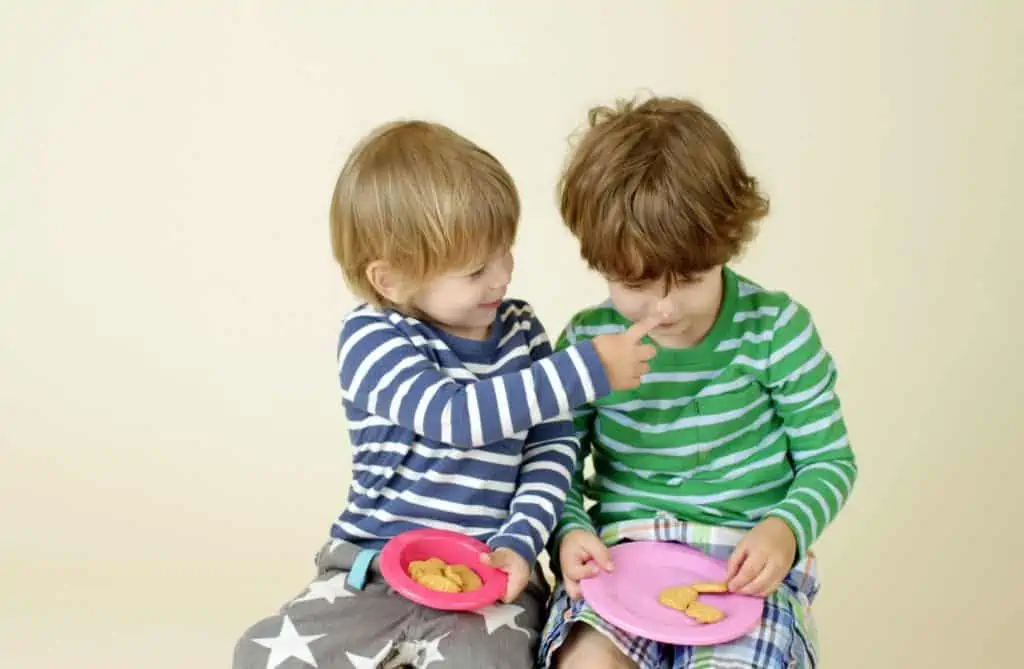 5 – Encourage pretend-play planning for toddlers.
Only some children have pretend-play skills that are advanced enough to be able to plan. To help your child develop this skill, you can help them to plan their play. Give your child help with planning a specific type of pretend play.
When you help them plan their play, you're helping them to prepare to try new things, solve problems, and take actions in their play. For example, if your child is playing as a waitress, they could start to plan their play time.
They would need a "restaurant" a "customer" and "food" to serve. By learning to plan ahead like this, children are preparing themselves for social situations, as well as giving their brain practice at planning different roles to play.
The ability to plan is a skill that allows for greater success, as well as more realistic play.
6 – Try to avoid criticism of your child.
Pretend play can be silly. Don't criticize or tell your child that they're doing it wrong – unless they're actually doing something wrong. Listen to what they have to say and be open to their opinions.
This will help them to develop their confidence and to feel good about themselves. Let them play, and encourage them to learn how the realm of make believe differs from the real world. You have to do this in a language the child understands, but it's not impossible.
7 – Teach about respecting boundaries.
Kids will play in a pretend manner, but they still need boundaries. Be aware that they need limits to their play. Pretend play with toddlers can be fun, but do not forget the underlying lesson. Namely, it's important to teach your child about limits.
You might have to gently remind them that your home is not a real restaurant, for example. With that in mind, you can gently guide them so that they can learn to set their own boundaries, too.
8 – Remember the rules…
If you are a parent, play with your child is one of the best ways to encourage pretend play. Just make sure that you follow the rules of pretend play. That is, you want to make sure it's safe for young children.
A land of make-believe can be creative and fun, but it can be dangerous, too. The rules of pretend play are important, but don't let you kids run wild! I hope this article helps you plan some pretend time with your toddler.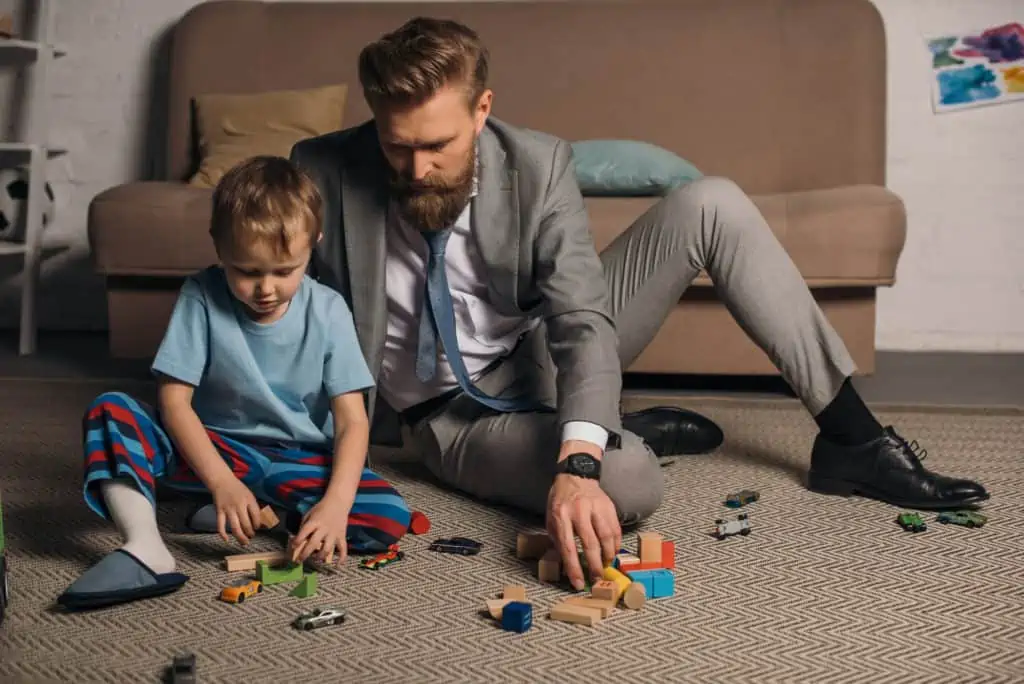 Pretend Play Conclusion
In conclusion, here's a summary list of things that you can do with your toddler to give them a chance to play and learn during their early childhood development.
Build a small fort out of pillows, blankets, or chairs and give them some small toys to play with inside of it.
Pretend to be a doctor and let them be the patient. You can even give them a pretend surgery.
Pretend to be a chef and create a meal together. That way, they can be the cook and you can be the chef.
Pretend to be a teacher and have them be your student.
Pretend to be a firefighter and give them a small fire hose to put out your "fire" with.
Pretend to be a veterinarian and take care of their "pets."
Be a tourist and show them some of the sights of your home or family.
Be a police officer, and then pretend to be a criminal.
Pretend to be a mail carrier and deliver mail to your family and friends. Take your child with you and have them be the fan you need to keep you cool as you deliver all the mail.
Pretend that you have an important and exciting project that no one else can do but your child. Then, have them help you finish it.
Pretend to be a baby and have your child take care of you, feed you, and more.
Make up a game or story together and make it up as you go.
These simple ideas can be great fun for you and your young children during their early childhood years.