Want to spice up your bedroom? No, not that way. I'm talking about bedroom accessories that will add character to your favorite room in the house. The bedroom is the one place where you can get away from it all without going very far. Your bedroom is your very own piece of the world – your domain. It's your space. Make it a sanctuary and you'll sleep better at night.
I've put together a massive list of bedroom accessories that you're sure to love. Some are practical – like a bedside lamp to wake up to. Some are for decoration only – like decorative pillows or bed skirts. And some are just a touch of whimsy in case you need a smile. Whatever you're looking for, it's in here! I've divided all my choices by colors, themes, and more.
Ready to get started? Sit back, put your feet up, and enjoy the list of bedroom accessories!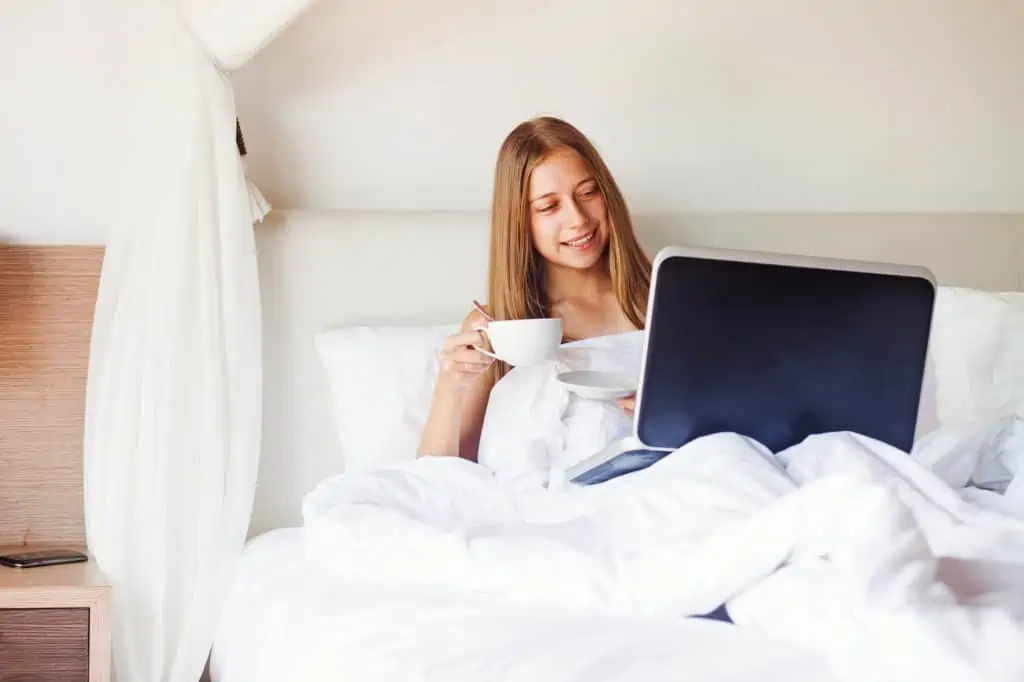 ---
Bedroom Accessories for Women
Once again, I've put together a list of bedroom accessories that women are sure to love. I've chosen a variety of bedroom accessories that will appeal to the different styles, tastes and personalities.
Women have different tastes than men and there are some great bedroom accessories geared toward women. I've put together my favorites so you can choose from the best.
---
Moon Lamp Galaxy Lamp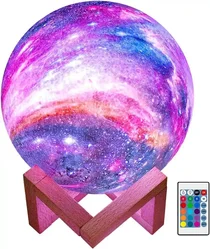 When choosing bedroom accessories for women, this might not be your first thought, but hear me out. I think this moon lamp is a fun and unique way for your significant other to be able to fall asleep every night, especially if they're heading out of town for a business trip or vacation, and you're stuck at home waiting for them. It's an incredibly thoughtful way to let them know you were thinking of them. (Ahem. I hope my husband is reading this post!)
In all seriousness, this "Moon Lamp" has a remote control, but it also operates by touching the globe, which is nice. It lasts anywhere from 4 to 12 hours depending on brightness. It also features an on/off switch to preserve battery life. As to what it can do, it shows a colorful star sky in the room which can spur your imagination and set the mood. You can use it as a kids night light and even as a decorative lamp.
It's a great gift idea for a couple or an anniversary. Great for a romantic night in. It's also a thoughtful gift for anyone who is into astrology and space. Overall, I think this is a lovely gift idea to surprise your loved ones. They'll be in awe of the unique design and the way it lights up their bedroom – literally. (Seriously, husband, are you reading my articles? You promised to be honest!)
---
Linen Duvet Cover Set
Elegant, simple and made from 100% natural material, this 3 piece Linen Duvet Cover Set is the perfect addition to your bedroom. Each set includes 1 duvet cover and 2 pillow shams. The King Size duvet cover measures 104″ x 92″, and the pillow shams measure 20″ x 36″.
Linen is a natural breathable fabric that is comfortable and soft to the touch. The duvet cover will keep you warm on chilly nights and cool on warm nights. Do not iron. (Note the comforter does NOT come with this set.)
This duvet cover set is made from OEKO-TEX Standard 100 certified material and is certified to be free of harmful chemicals. You can be assured that your duvet cover set is safe. Overall, this 3 piece Linen Duvet Cover Set is an "investment piece" for your bedroom. It's an accessory that will last a while and keep you comfy.
---
Artificial Olive Tree Decoration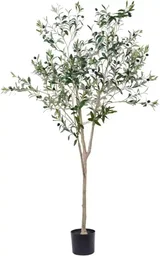 This is about 5 feet tall and made of fabric. The olive tree is lifelike, and it really sets a mood for your bedroom. The olive tree has a lifelike green color, and it looks very real. This is very good for decorating your own room or as an awkward gift idea. (Can you imagine showing up at the door with this in your hands?)
With no need for sunlight (again, it's fake), this olive tree can still symbolize peace in some cultures. Beyond that I just like how it looks. It makes my bedroom look nice, and the price is reasonable for this product. I would think it would make a good gift.
The olive tree looks very real, and it can be adjusted by adjusting the length with the screws on the bottom. I like that I can make it as tall or short as I want. It came with a stand, so I can move it around if I want to change its position.
Overall, it's a bit pricey, but it's a decent size and it's high-quality and realistic. It's pretty, and it makes the room look nice. I would purchase this item again.
---
Bedroom Accessories for Guys
Men have different taste in bedroom accessories than women – or so I've heard! There are some great bedroom accessories available for men and I've put together my favorites.
It can be tough to find bedroom accessories geared toward men. After searching far and wide (and I mean way wide!), I've put together a list of bedroom accessories that men are sure to love.
---
Funny Wall Sign for Men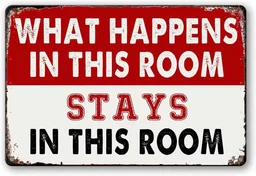 Bedroom accessories for men can be funny, and this one is no exception. Wall signs are sometimes intended to be funny, and this is a great example of this as it has a humorous saying that makes you laugh, but it also has a retro-style to it, which is pretty cool.
It comes with 4 holes that are already made, so you don't have to drill any holes. Simply find a place to hang the sign, and you're done. The vintage metal tin sign comes with a lifetime satisfaction guarantee, so you can be certain you'll be happy with your purchase.
It's made of a durable metal material and can be bent slightly without breaking. Overall, I think this wall sign, which happens to be the perfect sign for a man's bedroom, is a great addition to a home and makes a great gift. Bedroom accessories do not need to be boring.
---
Minifridge for the Bedroom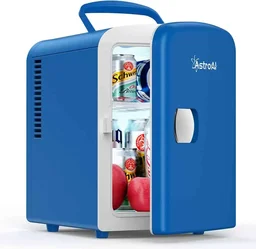 This mini fridge is a great addition to your bedroom. It's probably not the first thing you think of adding to your room, but it's actually very helpful in many different ways. It's a great way to store food and drinks, and other products that need to be chilled.
It's more for a single man's bedroom, but it's well-built and can store a six-pack with no problems. You can easily plug it into an American wall-socket. Oh, and it doesn't use freon and it environmentally friendly.
The quiet running is also a great feature for a smaller, bedroom-like space. It has a nice blue finish, which is a good color to set a mood for a relaxing environment. I would definitely recommend this mini fridge to any man that needs a cool place to store food, drinks, and other items.
Overall, bedroom accessories for men like this mini-fridge are a good addition to any bedroom. The overall quality, price, and features make it a great value and also make it a great gift for any man in your life. I'm thinking this might be good for college-age students too. Aargh. Where does the time go?
---
96 Can Compressor Mini-Refrigerator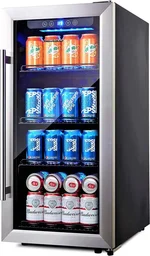 When talking about bedroom accessories for men, this mega-fridge is an excellent choice. The fridge can hold up to 96 cans, making it a great way to store beer or other beverages. It's a bit bigger than most mini-refrigerators and can take up some space in the bedroom where it's placed, but it works quietly and keeps drinks nice and cold.
The fridge is around 15 inches wide, twenty three inches deep, and thirty-three inches high. It can be used on a countertop or on the floor. It works on a compressor cooling system, so there aren't any moving parts to break and it requires less power than other models.
The fridge uses little energy, but it's still strong enough to keep drinks cool for a long time. The fridge keeps beverages at around 38-50 degrees Fahrenheit, so you can store beer, soda, or juice. The overall look is sleek, modern, and professional. It's a great way to upgrade the feel of your bedroom and give it a clean, professional look.
Since it's a bit bigger than most mini-refrigerators, it's also a bit more pricey. However, you get what you pay for as they say! With this mini-fridge, you can have a professional look and feel with your bedroom and have a place to store all your favorite drinks. It might be too expensive for a gift unless you know the man very well and have the money to spend. Still, it's impressive.
---
Dinosaur Bedroom Accessories
These bedroom accessories are not just for kids. Anyone who loves dinosaurs will enjoy having them around. I've got a dinosaur lover in my life, so I spent some extra time searching for some fun dinosaur accessories.
There's a lot to choose from. I've chosen a variety of dinosaur accessories that are sure to bring out the child in you.
---
Dinosaur Wall Decor
Oh no! Dinosaur in the area! Bedroom accessories for kids' rooms don't get much better than this dinosaur wall decor. This would be great for a dinosaur-themed nursery or a dinosaur fan's bedroom. It comes with four pre-drilled holes, so installation is simple. The unit comes with two dinosaur wall signs.
This dinosaur wall decor is perfect for a dinosaur birthday party. It's made of metal, so it's durable, and can be placed outside, too. This item is even waterproof and can be used outdoors.
One thing I like about this dinosaur decorative sign, other than the fact that it's great looking, is that it comes with a lifetime satisfaction guarantee, so when you buy it, you know that you'll be satisfied, or you can get your money back.
I would definitely recommend this dinosaur wall decor. Dinosaur-themed rooms just don't get any better than this.
---
Glow in the Dark Dino Blanket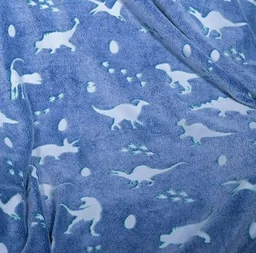 This dinosaur blanket is big and offers 44% more blanket to snuggle than traditional 50″x60″ throw blankets. The blanket measures 60″x72″ and is for anyone who love to snuggle up in a luxurious sea of plush fleece. Oh, and the glowing dinosaurs, of course!
Children into dinosaurs will love this blanket. It is made of ultra-soft, thick, and smooth polyester fleece fabric which will keep them warm and cozy while they snuggle up in their favorite dinos. The blanket is patterned with 11 classic dinosaurs, footprints, and eggs.
There's even a few hatching eggs! This blanket can be charged with electric or natural light and will glow in the dark for a few hours. Overall, I think this is a must have for any dinosaur loving child! The glow in the dark aspect is over the top.
---
Pink Bedroom Accessories
I'm a girly-girl – I admit it. I love all things pink. If there was ever a color that I'd want to decorate my bedroom with, it would be pink. I love the color pink and here are some pink bedroom accessories that I'm in love with.
There are so many options for pink bedroom accessories and I'm excited to share my favorites with you. There's a shade for everyone – from pastel pink to hot pink. My list is broken out by color and style, so you can see exactly what you want. Let's get started!
---
Inspirational Pink Wall Signs
These inspirational pink wall signs are wonderful. They're pink with a flower design and they're to be used as wall decor. I bought a lot of them to use in my bathroom and they look great. They'll work great as pink bedroom accessories too.
These items are a great way to add some pink love to a bedroom in your house. You get four signs that say "you are strong", "you are love", "you are enough" and "you are beautiful". I love the way they look in my bathroom. Also, they are real wood and have a beautiful, classic look to them.
These inspirational wall signs are wonderful gifts. I have given some as gifts to some friends, and they really loved the way they looked in their bedrooms. They are made of wood, so they are very sturdy and can last a long time. I have some that I have had for years and they still look like I just bought them.
If you're looking for pink bedroom accessories to use in your bedroom or other room in your house, these signs will work well. They can also be a great gift for friends, family and relatives. Overall, pink perfection!
---
Marvel Bedroom Accessories
Have a superhero lover in your life? Don't forget to pick up some Marvel bedroom accessories. These Marvel accessories will make a great addition to any superhero collection and are sure to be used every day.
The Marvel franchise is massive and there are so many options for bedroom accessories. I've chosen my favorites so you can get a feel for what's out there.
---
Spider-Man Light Switch Cover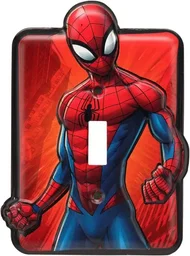 Spider-Man is always doing something to help the innocent. He's a great superhero, who is also known for being very funny in the comics. I remember seeing him in a video game, where you got to ride around on his webs and swing around New York City. He also has an awesome theme song.
Spider-Man is one of the coolest superheroes around for most kids. He's even cooler than Captain America, I've heard! The only problem is that there aren't enough Spider-Man themed Marvel bedroom accessories around. That's why I wanted to make this article to help you pick out more Spider-Man products that you can have in your room.
One of the products that I love is this Spider-Man light switch cover. It's designed for kids, and it has the wall-crawler doing his thing. Overall, as a parent, I think it's a cute decoration that kids will love if they're into Marvel comics, movies, or video games. (Marvel should really do some books as in novels! That might spur more reluctant readers to read. What do you think?)
---
Cap America Pillow Shield
This Marvel Captain America Shield pillow has a great design that truly represents the character. This pillow has a unique design on the front and will make any Marvel themed bedroom look more fun and exciting.
It measures 16 inches and is made of microfiber. The microfiber is high-quality and very durable. It can last long and will not fade when using. This pillow is easy to clean and can be spot cleaned if needed.
This pillow makes a great gift for any Marvel fan, young or old. It will transform any bedroom and help make naptime fun. This shield shaped pillow is a must have for any comic book enthusiast.
This Cap America Shield pillow is part of the Marvel collection which includes other pillows that can be coordinated for a complete look. Overall, I think this is at the top of my list of Marvel bedroom accessories. And for good reason!
---
Football Bedroom Accessories
Football fans have a lot of fun with their bedroom decor – from football sheet sets to football-themed pillows, there are so many ways to show your team spirit through bedroom accessories. Whether you're a diehard fan or just a casual observer, you're sure to find a bedroom accessory for your favorite football team.
My list of football bedroom accessories has something for everyone – from the diehard fan to casual observer.
---
Like Father Like Daughter
My dad LOVES football. We actually bond over football. There is nothing he loves more than watching football and playing XBOX with his friends. He is always asking me to play with him, but I would rather read a book, to be honest.
Football bedroom accessories need to be subtle, and these two posters do that in a way I think my father will love. (If you're reading this, dad, act surprised for me, okay?) In all seriousness, this is such a great decoration for football fans.
The art itself is more artistic than realistic, and that seems to appeal to my dad. It's the kind of thing that would look great in the basement (or bedroom) of someone who loves football. Overall, this is a great football print to have for the bedroom.
Custom Football Throw Pillow Covers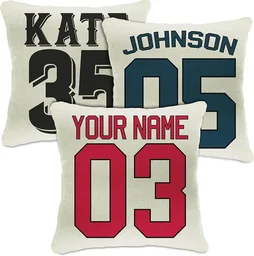 These Personalized Football Throw Pillow Covers are a unique gift idea for any football fan. You can personalize the pillow covers with a name and number of your choice in your favorite team's colors. The covers are made from 100-percent cotton and are soft and durable.
These football bedroom accessories are square. According to some reviews, the colors may be off, but this could have been just a single batch. For the price, and the fact they're customizable for your favorite sports fan, these are a great gift idea.
Overall, I think this football bedroom accessory is a great gift for the sports fan in your life. They're affordable, and customizable for your favorite player's number and your own name. I'm sure any sports fan would love this pillow cover. I'd buy one at first to check the color yourself. If there's a problem, Amazon will likely make it right.
---
Children's Bedroom Accessories
I've included a section on children's bedroom accessories because so many children are in need of bedroom accessories. I've compiled some great bedroom accessories – many of which are practical and some of which are just fun.
Children's bedroom accessories are different than what adults use. Children are often more interested in practical items like book shelves and cubbies. I've chosen a variety of children's bedroom accessories that are sure to fit any child's needs.
---
Ariel, Cinderella, and Belle Comforter Set
Let's be honest, girls love the Disney Princesses! These girls are known for helping others and fighting for what they believe in. They're also really good at listening to others and cooperating. Plus, they don't mind getting their hands dirty! I haven't met anyone who doesn't love the Disney Princesses! They're pretty cool.
One thing I like about the Disney Princesses is that they have a pretty cool wardrobe. They wear different outfits in different movies, and they're always looking amazing! Now that it's getting colder out, this is a great time to buy the Disney Princess Comforter Set.
This bedding set makes it seem like it is actually spring no matter the time of the year. Made with 100% brushed microfiber polyester, this bedding set is perfect for all seasons. Fade resistant and machine washable, this bedding set is the perfect addition for the bedroom of any princess or princess-loving kid! The set includes a comforter, fitted sheet, flat sheet, two standard pillow cases, and two pillow shams. I can't imagine a more perfect set.
---
Bedroom Gaming Accessories
Last but certainly not least, I've put together a list of bedroom gaming accessories for those who like to play computer games in the bedroom. Maybe you've got a PC in your bedroom or maybe you've got a gaming console like the Playstation or XBox. Gaming accessories are a great way to show your love for computer games.
I've included gaming accessories for the bedroom because I know so many people who play computer games in their bedroom. Whether you're a casual player or a hardcore gamer, I think you'll find something from my list of bedroom gaming accessories.
---
Wall Decor LED Gamepad Controller Shape Neon Light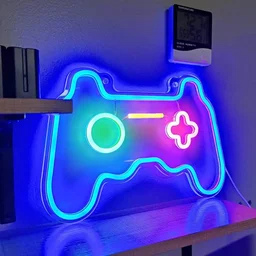 Looking for something cool to add to the bedroom of a gamer in your life? How about a Gamepad LED Neon Light! This light is well-designed and durable. And, it's a great way to add some fun to your gamer's room.
Made of Acrylic Backboard and PVC material, the Gamepad LED Neon Light is a wonderful neon light that's easy to use. There are two small holes on the top of the Gamepad Led Light, so you can use the included hooks and a chain to hang the Led Neon Light on the wall in your bedroom.
It's around 15 inches by 10 inches and has a dimmable light via the USB power cord. The Gamepad LED Neon light provides a splash of brilliant color into your space for an exciting feel.
It's a great way to add to the bedroom of your gamer and is a top gaming bedroom accessories pick.